Traveling through Kenya and Tanzania to the most amazing attractions and wildlife safari parks known for their diversity and highest concentrations. This 11 days Kenya Tanzania combined tour is a customized holiday package to the famous parks like Amboseli, Lake Manyara, Ngorongoro, Serengeti and Maasai Mara tailored to your wishes and your time. Combined with the impressive sight of Mount Kilimanjaro, this makes Kenya and Tanzania safari experience a unique tailor made holiday destination. The annual great wildebeest migration taking place in Maasai Mara is best viewed from the Mara River. This experience is best in July to October each year.
Summary of the 11 Days Kenya Tanzania combined tour:
This African safari holiday trip runs through Kenya and Tanzania showing you the best of the two destinations as you traverse them as highlights of an African safari. This tour to Tanzania and Kenya is filled with a golden sunrise, beaming wildlife, scenic landscapes and a variety of vegetation. Come into contact with the elusive leopards as they linger in trees and pride of lions laze in the endless grasslands of Serengeti and Masai Mara. The charming Maasai culture will grace this safari with a possibility to float on a hot air balloon ride to view the incredible Maasai Mara from the sky. This combined Tanzania and Kenya tour will, of course, give you golden memories that will last your lifetime after you have experienced all the treasures that the safari in Kenya and Tanzania safari offers.
Tour Highlights of Kenya Tanzania tour:
•        Get up close views of the African "Big Five" in both Kenya and Tanzania
•        You come to witness the unique tree climbing lions of Lake Manyara
•        Traverse the plains of the Serengeti and Masai Mara
•        See the pre-historic Olduvai Gorge Museum and the oldest human fossils
•        Wander through the beauty of the incredible Ngorongoro Crater
•        Watch the Great Migration of the wildebeests and associated herbivores and carnivores
•        Possibility to visit a traditional Maasai village for a cultural tour
•        Incredible flamingos of Lake Manyara
Itinerary and pricing for the Kenya Tanzania trip:
Day one. Arrive into Nairobi, the safari capital
Your Kenya and Tanzania tour begins by arriving at Nairobi Airport, you are assisted and transferred to your hotel. There is a scheduled short safari briefing. You then are on leisure for the rest of the day at Sarova Panafric Hotel with breakfast included.
Day two. Travel from Nairobi to the base of Kilimanjaro, Amboseli National Park
In the morning start your drive to Amboseli National Park where you arrive for lunch at the lodge. You will later on, as the evening draws in head-out on your first safari game drive in the park. The Amboseli is most famous for its large herds of free-ranging elephants and more so the breathtaking views of Mount Kilimanjaro. The night with meals at Kibo Safari Camp, B, L, D.
Day three. Amboseli and the amazing large herds of elephants
We get out early to make the most of the early morning safari game drives in order to view the animals as the sun rises in Amboseli. The safaris on early pre-dawn are arguably the very best time to attempt incredible views Mount Kilimanjaro in all its glory. Afternoon game drives tour are also included. You then retire for the night at Kibo Safari Camp, B, L, D.
Day four. Head from Amboseli to Lake Manyara for its tree-climbing lions and flamingos
An early breakfast, then we drive to cross the Kenya and Tanzania at Namanga border into Tanzania. where we continue to Lake Manyara with picnic lunch on route. Your Tanzania safaris begin here. An afternoon game viewing drive at Lake Manyara is worth the experience. You should be able to see tree-climbing lions of this park, flamingos among other animals. Your home tonight is at Lake Manyara Wildlife Lodge, B, L, D.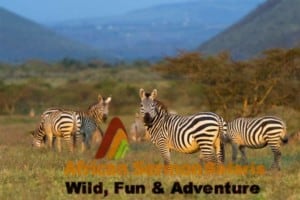 Day five. Lake Manyara into the incredible Ngorongoro Crater
After breakfast, we depart for a short distance into the beautiful Ngorongoro Crater. With picnic lunch boxes, descend 2000 feet into the crater floor where over 20,000 wild animals and birds including flamingos, lion, leopard, buffalo, rhino, elephant, and others make their home. The views atop the crater walls are unquestionably breathtaking and include forested woodland, river, lake, plain and swamps. Lunch is taken into the crater as you marvel at this world's natural wonder. Descend into the crater rim for the night at Rhino Lodge, B, L, D.
Day six. The Cradle of Mankind into the endless plains of Serengeti
Enjoy your breakfast and then drive to the Serengeti National Park via the Olduvai Gorge Museum, a unique pre-historic site. On arrival into Serengeti, enjoy game viewing drives to arrive at your comfortable accommodation for dinner and night at Kati Kati Tented Camp. Serengeti is filled with golden savanna grass, beautiful sunrises and plains where leopards hang on trees, the elephants parade on the horizon, and lions just laze in the grass. You will enjoy your evening at the Kati Kati Tented Camp campfire as you share your safari experiences this far, B, L, D.
Day seven. Serengeti, the unique plains full of big five
Today is spent with safaris drive in the Serengeti with game watching in this Africa's premium wildlife haven. During game drives, it is possible to have a glimpse of all the 'Big Five' in just a day, assuming you are lucky enough. You will spend much time in the park exploring new sights and possibly wildebeests calving in readiness for the great migration to Masai Mara on Kenya's side. Retire to your camp dinner and night, Kati Kati Tented Camp, B, L, D.
Day eight. From the Serengeti to the wild charms of Maasai Mara Game Reserve
After being served with your breakfast leave with your lunch boxes to drive to Isebania border on Kenya and Tanzania. Your Masai Mara safari adventure begins as soon as you enter the reserve gate. You head straight to your first safari game drive, as you continue to make your way to the lodge. You will be able to see plenty of plains game as you drive through the huge landscapes. You will overnight at Ol Moran Tented Camp, B, L, D.
Day nine and ten. The Legendary Maasai Mara and her wildlife majesty seen during Masai Mara safaris
As you continue to enjoy your African safari holiday, you have two game drive days in the Maasai Mara to hopefully catch the animals at their most active periods especially at sunrise and sunset. Luckily, you might probably spot the elusive leopard. The mixture of the Masai Mara immense plains game, scenery which includes meandering rivers to towering escarpments and the vistas of rolling savanna grasslands all provide the perfect habitat for the abundance of game.
You can choose an optional visit to a local Masai village at a fee of $25 per person to learn their culture and way of life or take a hot air balloon safari (priced at $450 per person) just before dawn only to touch down for a bush breakfast. You have a night at Ol Moran Tented Camp, B, L, D.
Day eleven. Maasai Mara back to Nairobi and departure
Today, you have the chance of last sunrise and your last game viewing drive. After a fantastic breakfast, you now drive back to Nairobi with a stop on The Great Rift Valley. You are dropped off at the airport after a lifetime safari in Kenya and Tanzania, B.
Kenya Tanzania safari price: $4150 per person sharing. Single room supplement: $790
Kenya and Tanzania safari tour price includes:
•    Guaranteed departure; guaranteed price
•    Transport in a minibus in Kenya and land cruiser in Tanzania equipped for game viewing
•    Accommodation in a double, twin or triple room sharing
•    Full board accommodation with three meals daily
•    Safari meal plan as described, B=Breakfast, L=Lunch and D=Dinner
•    Safari park fees and permits including local government taxes
•    Service of an excellent English speaking professional driver/guide
•    One night bed and breakfast accommodation in Nairobi
•    All safari game drives as detailed in the itinerary
•    Excursions in Nairobi to include all entrance charges
•    Complimentary bottled water whilst on safari
•    Arrival and departure airport transfers
•    Starting and ending in Nairobi
Combined safari Kenya Tanzania price excludes:
•    Laundry
•    Beverages and drinks
•    Tips to your tour driver-guide
•    Any local or international flights
•    Any items of a personal nature
•    Kenyan and Tanzanian visas
•    Any optional activities and any other extras not detailed in the above itinerary