If you have been dreaming of taking a safari holiday in Kenya, then this 13 Days Kenya explorer tour comes in handy. The Kenyan safari tour visits some of the Kenya's most beautiful parks including Amboseli, Mount Kenya, Samburu Game Reserve, Ol Pejeta Wildlife Sanctuary, Lake Nakuru popular with flamingos and finally the world's most popular safari destination, The Maasai Mara.
Your safari tour in Kenya begins with travel to Amboseli with its immense grandeur Kilimanjaro in the horizon. Then on to an intrepid safari up by the stunning Samburu Reserve and residing at one of the top lodges in Kenya, East Africa. This will be an exceptional introduction to the remote north of the country and also allows you to experience the authentic ways of the Samburu tribe, adding a fascinating cultural element to your holiday.
This is then combined with a luxury Big 5 wildlife safari in Kenya's unique Masai Mara, where you experience the precise best of East Africa's big game wildlife watching. You can also get to enjoy ballooning safari in Masai Mara at an extra fee of course. Your stay can be arranged in either a tented camp or a lodge of your choice, depending on your own sense of travel style and adventure.
13 Days Kenya explorer tour summary:
On this Kenya safari tour, you will be able to visit some of Kenya's prime game parks including Amboseli which is on the Kenya-Tanzania border commanding great views of Mount Kilimanjaro. The park is also home to the largest herds of elephants in Kenya. You then traverse to the north of Kenya's capital on the slopes of Mount Kenya within the Mount Kenya Forest at Serena Mountain Lodge where you encounter with floodlit game viewing drives as animals come to feed at the nearby watering hole.
The 13 days Kenya safari holiday tour then crosses the Equator to the northern frontier district at Samburu Game Reserve located in the semi-arid area. Here you encounter with the rare animals only elusive to this park including the Somali ostrich, Beisy Oryx and Reticulated Giraffe Grevy Zebra. You the return to the Equator and explore Ol Pejeta Conservancy where you get to see chimpanzees at the Sweetwaters Chimpanzee Sanctuary and spend the night in a luxury tented camp at Sweetwaters Tented Camp.
On this 13 day safari holiday tour, continues into the Great Rift Valley with a stop at Nyahururu Falls, into Lake Nakuru National Park which is a wildlife haven famous Rhino Sanctuary and an ornithological haven. Here you also get to explore Kenya's scenic Makalia Falls and enjoy a vantage view of the lake from the Baboon Cliff.
The  safari holiday in Kenya tour then heads into the world's populous Masai Mara Game Reserve, where the wildebeest migration takes place annually from October to October.  Here, you can take part in a hot air balloon safari or immerse yourself in a Maasai cultural village tour. The 13 days holiday Kenya explorer tour then returns to Nairobi where it ends.
The luxury Kenya safari that African Sermon Safaris has planned have a lot to see and discover.  Inland would be the fantastic plains of Africa, the most well-liked is the Masai Mara, the location of innumerable plains animals,  lions, elephants, cheetah, zebra, giraffe, rhino, leopard in addition to a variety of other unusual residents making Kenya among the leading African safari vacation spots.
A high end individualized African safari vacation that is Kenya safari or Kenyan safari holidays will afford you the possibility to see huge numbers of animals within the distinctive huge open plains in the Masai Mara Conservancies.  If you have certainly not experienced a Kenyan safari tour you might be missing a fantastic experience of your life. Kenya is probably the top rated holidaymaker destinations in Africa and home to numerous wildlife animals, for example, the big five; the Lion, the Elephant, the Leopard, the Buffalo and also the Rhinoceros.
13 Days Kenya safari holiday tour itinerary and pricing:
Day one. Arrival into Nairobi
On arrival in Nairobi, met and assisted. Transfer to Sarova Panafric Hotel for an overnight rest on bed and breakfast to recuperate from jet lag.
Day two. Explore the stunning Nairobi with excursions
Enjoy breakfast at the hotel. Pick up from the hotel at 9.30am for a day trip in Nairobi to explore the city as you kick off jet lag. Your Nairobi safari tour drive towards the Nairobi National Park to Sheldrick Baby Elephant Orphanage, open 1 hour daily between 11:00 am and 12:00 noon. You get to see the orphaned elephants playing and being fed. You can get close to the elephants. The orphanage takes in rhinos and if you are lucky, you will have the chance to see a young orphaned rhino. Continue to the Karen Blixen Museum.
This has been for many years home to Karen Blixen 'Out of Africa'. You then continue to the Giraffe Center to see and hand-feed famous threatened species of The Rothschild Giraffe alongside her family. In between, there will be a lunch stop at Utamaduni Restaurant. A stop by Kazuri Beads Factory is made. You will now head to The Carnivore Restaurant for an introductory dinner and return to your hotel for the night at Sarova Panafric Hotel on bed and breakfast, B, L, D.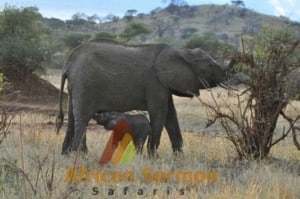 Day three Nairobi – Amboseli
The safari tour adventure begins now after having had a Nairobi safari tour the previous day. Drive Southwards to Amboseli National Park through the Maasai countryside. Game viewing en route to your lodge with the gigantic views of Africa's highest peak, Mount Kilimanjaro in the background. Afternoon leisure by the poolside, safari game viewing or a choice of sightseeing. You spend the night at Amboseli Sopa Lodge, B, L, D.
Day four. Amboseli
Full day in Amboseli with game drives both in morning and also in the afternoon, being the very best time to see animals while they are still active; especially the cats at hunt – you might be lucky to see a kill. The snow-capped peak of majestic Mt. Kilimanjaro dominates the scene here at Amboseli National Park. Overnight is at Amboseli Sopa Lodge, B, L, D.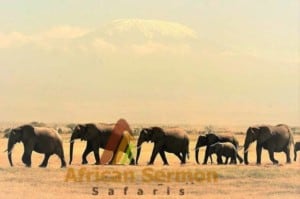 Day five. Amboseli – Nairobi – Mount Kenya safari tour
Waking up to an early breakfast, head out to Mount Kenya via Nairobi. Continue towards The Kenyan highlands arriving at Serena Mountain Lodge in time for late lunch. The Serena Mountain Lodge is the only 'tree hotel' on the slopes of Kenya's legendary Mount Kenya. The lodge offers unique safari game viewing opportunity whilst combining a glorious panorama of mountain vistas with the ancient splendors of a rain-forest. The Serena Mountain Lodge floats at 2,195 m high on the flanks of Kenya's highest mountain which is secreted deep within the large Mount Kenya National Park forest reserve.
It offers not only the champagne-clarity of mountain air, a beautiful procession of wildlife but also the chance of scaling the snow peaks of Africa's second-highest mountain. Your afternoon is at leisure game watching from the lodge and overnight floodlit game viewing, as animals come to the nearby watering hole. There is an optional guided nature forest walk that can be arranged at US$35 per person. Dinner and overnight will at the Serena Mountain Lodge, B, L, D.
Day six. Mount Kenya – Samburu Game Reserve vacation tour
We drive further northwards past the Equator to Samburu National Reserve, arriving at Samburu in time for lunch. The Samburu National Reserve is a place of dust-red plains, palm-fringed rivers, and endless skies, lie on the bounds of the vast and arid desert once named as the Northern Frontier District. The heat-scorched scrub-lands of The Samburu extend beyond the Lake Turkana and its jade-green waters.
Samburu is one of the Kenya's few sanctuaries for the near extinction the blue-shanked Somali ostrich, Grevy zebra, and the rare Beisa Oryx. At Samburu whilst on safari in Kenya, large herds of elephant roam the gaunt hills. You will have an afternoon game drive safari with dinner and overnight will be at Samburu Sopa Lodge, B, L, D.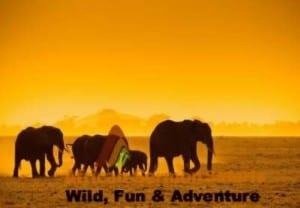 Day seven. Samburu Game Reserve vacation tour
The entire day is spent in Samburu vising her main attractions in offer. Morning and afternoon safari game drives in Samburu. In Samburu you will explore and take game drives across this savannah. Here in Samburu, animal sightings intensify as you approach the Uaso Ng'iro River. The Nile crocodiles wait patiently in the muddy waters as the reticulated giraffe or beisa Oryx wait for a calm time to come and drink. Lion prides patrol the clearings or sleeps lazily on tree shades. Meals and overnight stay at Samburu Sopa Lodge, B,  L, D.
Day eight. Samburu to Ol Pejeta Game Sanctuary
You take your breakfast followed with an en-route game viewing safari as you travel to Ol Pejeta private game sanctuary. Your afternoon game viewing safari drive is provided. Here, there is an optional walking safari or night game drives, which can be booked locally at the camp. Game viewing drives here in Includes visit to chimpanzee sanctuary. The "Big Five", that is leopard, rhino, elephant, lion, and buffalo and also to be seen in this sanctuary plus an exciting catalog of zebra,  giraffe, waterbuck, eland, oryx, Thompson's gazelle, Grant's gazelle, silver-backed jackal, hartebeest, cheetah, baboon and several hundreds of bird species.
Serena Sweetwaters Tented Camp is a luxury tented camp designed to offer a fascinating blend of under canvas ambiance and with uncompromising accommodation. Ol Pejeta is one of Kenya's private game reserves which also allows an unforgettable optional pleasure of night game drives, guided bush walks, and both horse or camel riding. All your meals and night at Serena Sweetwaters Tented Camp, B, L, D.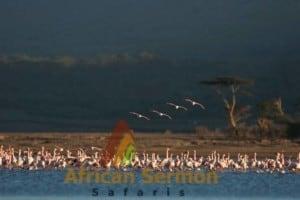 Day nine. Ol Pejeta Conservancy to the Great Rift Valley at Lake Nakuru National Park
Today, you re-cross the Equator as you head and travel by road to Lake Nakuru National Park with a stop at The Nyahururu Falls. Arrival into Lake Nakuru is in time for a sumptuous buffet lunch. Set high on a plateau in an elevation above this alkaline Lake Nakuru and overlooking the lake lies your lodge. This is a perfect location to explore one of the world's leading ornithological displays for the Pink flamingos which also has a rich concentration of wildlife such as the colobus monkey and also a famed Rhinoceros Sanctuary. In the afternoon proceed on a safari game drive in this famous ornithological spectacle for flamingos. Dinner and overnight at Lake Nakuru Lodge, B, L, D.
Day ten. Lake Nakuru National Park to Masai Mara
Drive to Masai Mara Game Reserve arriving in time for lunch, siesta and an afternoon safari game drives. Masai Mara National Reserve is a pristine wilderness of evocative beauty. Maasai Mara affords its visitors a prolific bird life, an abundance of wildlife, and the unrivaled opportunity of spotting the 'Big Five' in a single morning. The 1,800 sq kilometers of this legendary wildlife reserve offers the typical mix of African imagery; shoals of lilac-misted hills, miles of lion-gold grasslands, a meandering Mar River, sweeping thorn-bush and several thousands of miles of undulating wilderness in Kenya. Your dinner and overnight rest at Mara Sopa Lodge, B, L, D.
Day eleven and twelve. Maasai Mara
You will spend your two days exploring the Masai Mara which has lots of activities to offer during the Kenya safari holiday. Each day scheduled with safari game drives in the morning and afternoon, which is the best time to see animals whilst they are quite active. The day's meals and night stay at Mara Sopa Lodge, B, L, D.
Holiday safaris in Masai Mara offering optional safari activities which you can opt for an extra pricing:
1. Hot air ballooning safari experience with bush breakfast: US$ 450 per person
2. Visit an authentic local Maasai village for a cultural tour: US$ 25 per person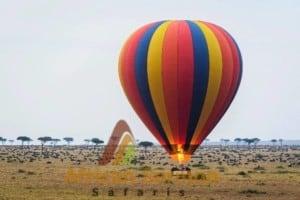 Day thirteen. Maasai Mara return to Nairobi and departure
An early morning last safari game viewing session. Return to the lodge for breakfast and check out. You make a return trip back to Nairobi where you will arrive in the late afternoon. Transfer to the airport for your onward journey back home, after such an exciting safari tour, B.
13 day Kenyan holiday cost: US$ 4200 per person sharing. Single room supplement: US$ 725
13 Day Kenya holiday tour price includes:
•    Guaranteed departure; guarantee price
•    Transport on safari in a minibus equipped for game viewing, touring and photography
•    Accommodation in a double, twin or triple room sharing
•    Full board accommodation with three meals daily
•    Safari meal plan as described, B=Breakfast, L=Lunch and D=Dinner
•    Safari park fees and permits including local government taxes
•    Service of an excellent English speaking professional driver/guide
•    Two nights bed and breakfast accommodation in Nairobi
•    All safari game drives as detailed in the itinerary
•    Excursions in Nairobi to include all entrance charges
•    Complimentary bottled water whilst on safari
•    The Carnivore Restaurant dinner
•    Arrival and departure airport transfers
•    Starting and ending in Nairobi
13 Days safari tour in Kenya pricing excludes:
•    Laundry
•    Beverages and drinks
•    Tips to your tour driver-guide
•    Any local or international flights
•    Any items of a personal nature
•    Kenyan visas
•    Any optional activities and any other extras not detailed in the above itinerary