This holiday tour travels to the most well-known national parks of Kenya offering the best game viewing experience and wonderful landscape. 4-Day Masai Mara Lake Nakuru safari tour parks is one of the most popular trips in Kenya for seeing the big five. On this combined Kenya holiday tour you will experience the best of Masai Mara and Lake Nakuru National Park, both of which have unusually rich animal and bird life as well as an optional visit to experience life in a local Masai village. Masai Mara is the most spectacular safari park in Kenya where you have the chance to experience an impressive wildlife variety – elephants, lions, buffalo, hippos, antelopes, wildebeests, hyenas, crocodiles, gazelles, giraffes, and many more. The famous wildebeest migration between Tanzania's Serengeti and Kenya's Masai Mara is primarily the best time to travel to Masai Mara. Combining these two African safari holiday destinations, the 4-day Masai Mara and Lake Nakuru safari tour starts from Nairobi and the Kenyan safari trip ends with return to Nairobi, Kenya's safari capital.
4-Day Masai Mara Lake Nakuru safari tour
Lake Nakuru and Masai Mara African safari holiday destinations offers the best wildlife viewing. During the first half of the trip you will be on a guided safari at Lake Nakuru and in Masai Mara, where you can enjoy the rich and varied animal and bird-life, such as counts thousands of zebras, gnomes and flamingos as well as lions, cheetahs, leopards, giraffes, hippos, shackles, elephants, rhinos, gazelles, impala, crocodiles, vultures, Marabou storks, baboons, hyenas, ostriches … The list is almost infinite making Kenya safari a unique experience.
Maasai village
While in Masai Mara, you can take a side trip to a local Masai village, where you come into close contact with the Masai's way of life. You will visit their homesteads while the guide will explain the many aspects of life in the village including how to build homesteads, wedding ceremonies, food, clothing, family life, leadership and traditional medicine. A traditional dance is part of this visit and you are of course welcome to dance with the locals as you interact.
Safari tour of Masai Mara
Masai Mara is a huge savanna that lies in the southwestern corner of the country bordering the Serengeti plains in Tanzania. Throughout Masai Mara you have the opportunity to experience an impressive and varied range of wildlife – elephants, buffalo, zebras, hippos, antelopes, gazelles, gnus, giraffes, hyenas, crocodiles and many more. Here are really good chances to see lions and it's not an abnormal sight to see them eat a swap. You may also be lucky to spot cheetahs and leopards. And watching the sun go down over the savanna in Masai Mara, Kenya after a nice day of watching lots of animals and landscape. Absolutely quiet, the sun disappears, and suddenly it's dark gray. It is also possible to book and optional hot air balloon flight at sunrise – a beautiful experience, all at least once in a lifetime. A fantastic experience that ends with breakfast and champagne on the savannah.
The best time to travel to Masai Mara
The safari tour of Masai Mara is carried out year round. In general, it is easier to observe wildlife in the parks during the dry season from late June to October and from January to March. The ultimate attraction is undoubtedly the annual great trek of wildebeests and zebras in July and August. In giant flocks of hundreds of thousands, they travel north from Serengeti in Tanzania across the Mara River to Kenya in search of fresh grass – in October they move in the opposite direction back to Tanzania's Serengeti National Park.
Lake Nakuru safari tour
Lake Nakuru National Park is famous for its thousands of flamingos that make up an impressive pink lake view – at certain periods of the year up to three million are collected here. In addition to flamingos you will experience a wide range of wildlife such as buffalo, giraffes, hippos and white rhinos.
4-days Kenyan safari trip itinerary and pricing:
Day 1: Driving from Nairobi to Masai Mara, 5~6hrs driving
There is a departure from Kenya's safari capital in the morning. From here you are driven along the "The Great Rift Valley" via the Maasai Town of Narok. Then continue on to Masai Mara Wildlife Reserve with arrival in time for lunch at the Masai Mara safari lodge. On the Kenya holiday tour drive into park, you get the firsthand experience of the park's amazing wildlife and varied hilly landscape and there will be time for an afternoon safari trip to spot wildlife. The chances of seeing the big cats – lions, cheetahs and leopards are greatest. Accommodation in Mara Sopa Lodge, L, D.
Day 2: Safari in Masai Mara Game Reserve
The whole day is set to drive around and observe the wild animals in the reserve. Kenya's largest wildlife safari reserve, Masai Mara, is a continuation of the Serengeti plains in Tanzania and world famous for the unique and spectacular migration of hundreds of thousands of wildebeests and zebras. From the end of July, they begin to arrive at Masai Mara in their search for food. In October, the grass is depleted and they start the long trek and walk back to Serengeti. Masai Mara is also rich in resident animals with over 95 different species. These include "The Big Five"; elephant, buffalo, lion, leopard and rhino, but also giraffes, hippos, hyenas and countless antelopes. The park also has a fantastic rich and varied bird life with over 480 species. You have the opportunity to visit a local Masai village where you will be invited inside a traditional cottage built of branches and mud. Here you can see and learn about the Masai's strong culture and tradition-bound lifestyles. Or perhaps experience the wild animals from a hot air balloon with a touch down bush breakfast in the African wilderness. Accommodation Mara Sopa Lodge, B, L, D.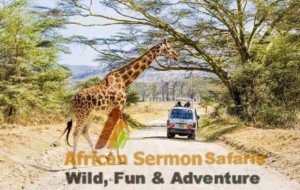 Day 3: Departing Masai Mara to safari tour of Lake Nakuru
You'll have breakfast and then drive to Lake Nakuru. This morning you start off early with a safari tour of Lake Nakuru National Park. It is especially famous for its hundreds of thousands of flamingos who come to the lake in changing periods of the year in their search for food and form a broad pink ribbon around the entire lake. The number of flamingos has reduced in the recent past due to rise in water levels and siltation. Safari tour of Nakuru has also gained the status of a special reserve for rhino, which is always seen under safari in the park. There are also good opportunities to experience buffalo, giraffes, zebras, waterbucks and perhaps the fleeting leopard. Spend the night at Flamingo Hill Camp, B, L,D.
Day 4: Take a safari tour of Lake Nakuru and drive to Nairobi
This morning you start off early with a safari tour of Lake Nakuru National Park being the very best time to spot the cats and other wild animals of the park while they are still active.  You will then enjoy lunch and on route safari drive as you drive back to Nairobi through the Great Rift Valley vantage point. There is an option to stop by Lake Naivasha where there are possibilities for various optional activities such as boat trips, walk on Crescent Island or bird watching. You will arrive in Nairobi in the afternoon. Drop off at your hotel where the tour ends, B.
Accommodation included:
1 night in Lake Nakuru National Park at Flamingo Hill Camp on full board
2 nights in Masai Mara National Reserve at Mara Sopa Lodge on full board
4-day Kenya trip cost: US$ 1175 per person sharing. Single room supplement: US$ 140
Kenya safari cost includes:
•    Park fees (for non-residents)
•    All safari activities as mentioned in the trip schedule (unless labeled as optional)
•    All meals on safari as specified in the day-by-day section as; B=Breakfast, L=Lunch, D=Dinner
•    All safari accommodation in en-suite double / twin / triple room (unless listed as upgrade)
•    Service of an expert professional driver/guide
•    All transportation in a safari minibus (unless  labeled as optional)
•    All associated taxes/VAT
•    Complimentary bottled drinking water in the safari vehicle
•    Start and end in Nairobi with pick up and drop off at hotel
Price excludes:
•    Any unforeseen Government imposed increase of park fees and/or taxes
•    International flights (from/to home)
•    Tips to driver / guide
•    Items of a personal nature (travel insurance, souvenirs, visa fees, etc.)
•    Drinks
Kenya is for sure the original home of the safari which has fascinated adventurers and vacationers from all over the world. It is also the home of 'Out of Africa' and both Ernest Hemingway and Teddy Roosevelt came here on safari. Here, you can still find the romance of gin and tonic with incredible evenings around a campfire, and nights under canvas with the distant roaring of a lion in the African night. Kenya's magic is seen in the absolute diversity of landscapes, wildlife, human cultures, and experience. Luxury Kenya safari is a unique experience that everyone should enjoy once in a lifetime.
No other African safari country has such diversity within its borders. Here you'll find unspoiled beaches and tropical rain-forest, snow-capped peaks and rolling savanna, nomadic tribesmen, herds of elephants and flocks of flamingo, and dhow sailors. Kenya likewise offers you an uninterrupted opportunity to see different wildlife species that can only be seen here, such as reticulated and Rothschild's giraffe, Grevy's zebra, gerenuk, and the critically endangered hirola.
A safari in Kenya with African Sermon Safaris is definitely an unbelievably unforgettable and invigorating encounter, but it could also be a back-breaking tough encounter based upon which selection you like.  Mara is really a wildlife reserve, also it is one of the places where Maasai people reside with the animals.  Masai Mara has outstanding wide-open scenery and rich riverine woodlands following a looping meander on the Mara and Talek streams.  Mara is recognized for its plethora and selection of plains game and its particular predators.  Wild animals are plentiful in the region and game-viewing is a great one anytime.  Kenya Safari Holiday implies an exhilarating wildlife excursion and cultural encounter while you go to the main national parks/reserves and have to interact with together with the distinct communities in Kenya.  Kenyans really are warm and friendly folks and everybody you connect to could make you really feel in your own home.  What exactly is remarkable regarding a Kenyan safari tour is perhaps you can love this particular fun-filled voyage with a very favorable price.
Luxury Kenya safari that African Sermon Safaris plans has a lot to provide.  Inland would be the fantastic plains of Africa, the most well-liked is the Masai Mara, the location of innumerable plains animals,  lions, elephants, cheetah, zebra, giraffe, rhino, leopard in addition to a variety of other unusual residents making Kenya among the leading safari vacation spots in Africa.  A high end individualized Kenya safari or Kenyan safari holiday will afford you the possibility to see huge numbers of animals within the distinctive huge open plains in the Masai Mara Conservancies.  If you have certainly not experienced a Kenya safari you might be missing a fantastic experience of your life. Kenya is probably the top rated holidaymaker destinations in Africa and home to numerous wildlife animals, for example, the big five; the Lion, the Elephant, the Leopard, the Buffalo and also the Rhinoceros.