Hiking in the wonderful and scenic hike Mount Kenya National Park is undeniably at its best during the dry months of January, February, late August and September. October is equally good for trekking. Choose our 5 days Mount Kenya climb Sirimon Chogoria route which combines the best routes with an ascent from Sirimon route  and descent via the most breathtaking Chogoria route. You will be amazed at the beauty that these two combined routes have to offer. Climbing Mount Kenya on this route descends with the spectacular views of the Gorges Valley, Lake Michaelson and Lake Ellis.
Hike Mount Kenya Sirimon Chogoria route in 5 days
The Sirimon route combined with Chogoria route form the most scenic climb on Mt. Kenya. The start is from the Sirimon route which has better acclimatization and altitude gain. You get to hike on the Mackinders and Sirimon Valley and visit the remarkable Hauseberg tarns. The start is from the northwest part of Mt. Kenya hiking via the Liki North, Old Moses Camp and the Shipton's Camp before hitting Point Lenana at 4985m.
Climb Mount Kenya 5 days via Sirimon Chogoria route has easy access and accommodation is in bunk houses aka huts with basic facilities.
Descent is on the charming Chogoria route with its outstanding Gorges Valley down through the beautiful Lake Michaelson, Lake Ellis and Nithi Falls, before a comfortable night at Mount Meru Bandas. The Bandas have the much needed hot shower and offers the best accommodation on this route for a comfortable night's rest to rejuvenate.
The Mount Kenya climb in 5 days covers a total of 80 km of hiking and is considered to be moderately difficult. The summit day is the longest day of this climb, but the most rewarding in terms of scenery.
Accommodations in camps and mountains huts as per the itinerary. This trek can be combined with a Kenya safari tour.
Highlights of 5 Days Mount Kenya climb Sirimon Chogoria route:
•    Combines two of the most routes of Mount Kenya climbing
•    Spectacular views of the mountain through Mackinders Valley and the charming Gorges Valley
•    Varied mountain vegetation from rain-forest, bamboo, moorland and giant lobelias
•    The best accommodation on Mt. Kenya hike provided in mountain huts
•    The chance to acclimatize at 4200m, just before the summit hiking
Climb Sirimon-Chogoria route Itinerary and pricing:
Day one. Start from Nairobi to Old Moses Camp via Nanyuki and Sirimon Gate, 3-4hrs hiking
You will start from Nairobi at 7.30 am with a scenic drive through the Great Kenyan highlands to Nanyuki Town which is 4hrs drive. You will continue for an hour into Sirimon Gate for registration and early lunch. The hike starts with a three and a half hours walking for 9 km through the winding track along rain-forest which then becomes heather land. You arrive at Old Moses Camp aka Judmier Camp dinner and night at 3300m, L, D.
Day two. Old Moses Camp to Shipton's Camp, hiking of 6 to 7 hrs
Wake up to an early breakfast and then head up hill and branching toward the the left at Likii North junction. An hour from Judmier Camp, this track goes via Ontulili River and contouring through the moorland, past Likii North Valley. An uphill hike is now to the picturesque Mackinders Valley. At this point, you have stunning views upwards of the valley to the maind peaks of Point Lenana, Nelion and Batian. You will then arrive at the Shipton Camp for dinner and night at 4200m. It is now snowy and freezing from this camp, B, L, D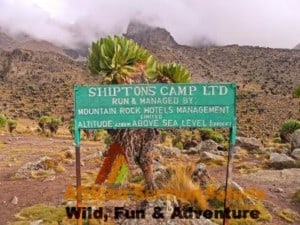 Day three. Acclimatization day at Shipton Camp hiking mt kenya
Today, you have an acclimatization day hiking towards the Kami Hut, base camp for technical climbers. Head down towards the Mt. Kenya Hauseberg Lakes which comprises of Nanyuki Tarn and Hauseberg Tarn. The tarns are quite beautiful and sparkling blue in color. You now hike back to your camp to catch enough sleep, so you can attempt the summit, just after mid-night. Night at Shipton Camp, B ,L, D.
Note: There is an option you can opt to summit on this day and descend to Mintos Hut at 4200m for the night. This option would comfortably shorten the long walk from the summit to Mt. Kenya Bandas and allow you more time to enjoy the most rewarding scenic beauty on Chogoria route.
Day four. Summit Attempt from Shiptons down to Chogoria Gategoria Gate for 11-12hrs
You are awaken at 2am for a cup of tea and biscuits. You leave the camp at 3 am and head up through a steep stony quarry cutting through a cliff, the most difficult and strenuous section. This clears the visible part which is towards the Mt. Kenya Lower Hall Tarns. You arrive at the Mount Kenya Peak at Point Lenana after 6 km of hiking from Shipton Camp. Arrival at the summit is expected after 3 hrs to catch the beaming sunrise over Mt. Kenya. After the sunrise, you now descend Mintos Hut for 6 km in a period 2 hrs. Here, you have your full breakfast and a short rest. The hiking continues down for 20 km for 4-5hrs of outstanding scenic views through the Gorges Valley, Lake Michaelson, The Nithi Falls and Lake Ellis. You spend the night at Mount Meru Bandas at 2950m, B, L, D.
Day five. Start from Chogoria Bandas to Chogoria Village and on to Nairobi, 2 hrs walking
Hiking down for 16km in 2 hrs you get to the forest clearance.  Here, you are transferred in a 4x4WD land rover to Chogoria Town from where you are driven back to Nairobi. Arrival is expected at approximately 3 pm. This hiking mount Kenya trek can be combined with a Kenyan safari, B, L.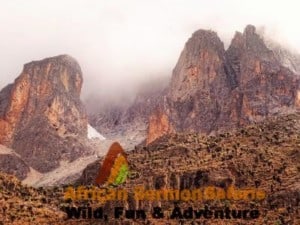 Hiking Mt Kenya cost: US$ 900 per person
hiking 5 Days price includes:
•    Road transfers from Nairobi to Sirimon Gate
•    Road transport from Chogoria back to Nairobi
•    All accommodation in the mountain camps or huts as per the above itinerary
•    Full board accommodation during on the Mt. Kenya trek.
•    Meals on the mountain as detailed – B = Breakfast, L = Lunch and D = Dinner
•    All Mount Kenya trekking permits and local government taxes
•    An expert English speaking Mt. Kenya climb guide, cook and porters
•    Boiled and treated water during the hike on Mount Kenya
•    Successful Mt. Kenya climb certificate
hiking Mount Kenya 5 Days price excludes:
•    Tipping to Mt. Kenya guides, cook and porters
•    Sleeping bags and climbing gear
•    Accommodation and meals in Nairobi
•    Drinks
•    Local and international flights
•    Passports, visas  and personal items and spending
•    Any other items not detailed in the above itinerary