On this 6 Days Kenya Safari Aberdares, Lake Nakuru and Masai Mara trip , you get to take part in a safari tour travel to the Kenya's magical wildlife reserve, Masai Mara National Reserve located in the southwest part of the country. This safari park is most famous for its annual wildebeest migration which occur every year from July through October and is a renowned spectacular wildlife journey.
Safari game viewing is excellent throughout the year. The vastness of these savannas are a stunning setting to the diversity and abundance of wildlife primarily dominated by buffalo, lions, elephants, rhinos as well as gazelles, antelopes,  hippos, and crocodiles strewn along the Mara River. Safari tour in Masai Mara never disappoints and it is one location that you can travel to over and over again due to its immense wildlife concentrations and variety of safari lodges and tented camps.
6 days Kenya safari Aberdares, Lake Nakuru and Masai Mara:
Take a journey to Lake Nakuru where the main activity is game drive safari to see the rhino, flamingos, visit Makalia Falls and see over 450 birds species present in this holiday safari park.  Here you will likely see lots of birds including flamingos, pelicans, black and white rhinoceros  as part of this Kenyan safari tour.
Travel on a safari tour to the Kenyan highlands at Aberdare National Park which houses the Aberdare Ranges. You will come into encounter with rhinos, elephants, warthogs and many other grazers observed here. Deep in the forested park are the leopards, golden cats, spotted hyenas, and other more elusive predators. To be found here is the rare Bongo. At the Aberdare National Park, The Ark Lodge and The Treetops Lodge are the only accommodation choices. Treetops has 36 rooms and The Ark has 60 rooms.
Both the lodges are situated next to a waterhole where animals come to drink day and night thus allowing one to experience of an overnight flood lit game viewing safari trip offering. The Aberdares can be very chilly and warm clothing recommended. Due to shortage of storage space in the cabins, guests are only permitted to bring with them an overnight pack to the lodge, the excess luggage is left behind at the base hotel at check-in.
Kenyan safari itinerary and pricing:
Day one: Arrival into Kenya's Capital
Your 6 days safari trip adventure starts with your flight arriving into Nairobi, Kenya's capital and safari hub. Transfer to your hotel for rest. Time-dependent, our expert leader will give you a briefing of your trip. Spend the night at Sarova Panafric Hotel, where you will be on bed and breakfast plan.
Day two. Nairobi to Aberdares National Park, Kenya, 3hrs drive
Pick up from your hotel in Nairobi at 8 am. Drive North of Nairobi across the Kenyan Highlands, through pineapple and coffee plantations. Arrive at the Aberdare Country Club for lunch. Afternoon transfer to the Aberdare National Park at The Ark Lodge for bird watching and overnight floodlit wildlife game viewing from the lodge viewing decks. The Ark Lodge is set in the heart of the Aberdare National Park and is a unique tree lodge with the veranda that overlooks a floodlit waterhole and salt lick allowing undisturbed views of wildlife visiting the waterhole. Rhino, elephant, leopard, bushbuck and occasionally the elusive bongo and giant forest hogs have been sighted.
All the 60 guest rooms at the lodge are all en-suite. The cabins have private bathrooms with shower, comfortably furnished with bedside lamps and carpeted floors to ward off the evening and morning chill. Resembling and named after the biblical Noah's Ark, The Ark Tree Lodge is designed with 'decks' from which numerous balconies and lounges provide superb vantage points for game viewing. A ground level bunker provides great photographic opportunities and draws you closer to the untamed wildlife. Dinner and night at The Ark Lodge, B, L, D.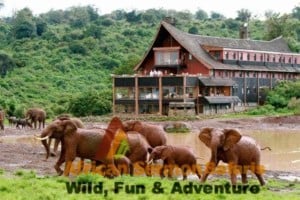 Day three. Aberdare National Park to Lake Nakuru National Park, 3hrs drive
After breakfast, drive via the Nyahururu Falls into Lake Nakuru National Park with an en route game drive. Arrive at Flamingo Hill Camp in time for lunch and afternoon leisure. The lake attracts thousands of lesser and greater flamingos among other tens of species of birds. There are a variety of bird species to watch in this lake. Not only does this lake boast of being a bird's paradise, it is also a rhino sanctuary for the highly endangered black and white rhinos.
Other animals found here include cheetahs, leopards, lions, waterbucks, zebras, gazelles, Rothschild Giraffe among others. In the afternoon, enjoy game viewing from 4 pm until 6.30pm, being the best time to see the animals while they are still active. Return to the lodge for dinner and overnight Flamingo Hill Camp, B, L, D
Day four. Lake Nakuru – Maasai Mara holiday safari park, 5~6hrs drive
After breakfast on route game viewing as you depart from Lake Nakuru at 7 am into the Masai Mara with its amazing migration, the concentration of wildlife and outstanding scenery. Lunch at your chosen lodge with time for sightseeing, relaxing by the pool or just resting. At 3.30pm, take an afternoon introductory game drive running until 6.30pm. Return for dinner and overnight at Mara Sopa Lodge, B, L, D.
The Maasai Mara Game Reserve:
The Maasai Mara National Reserve is a legendary pristine wilderness of haunting beauty. The Mara promises its visitors a profusion of wildlife, prolific bird life and the unprecedented opportunity of catching up with all the members of the 'Big Five' in one morning, scenic sunrise and sunset vistas. The 1,800 sq kilometres of this veteran reserve offers the classic mix of true African imagery; several miles of lion-gold grasslands, shoals of lilac-misted hills, acres of thorn-bush, a meandering Mara River,  and mile upon mile of undulating wilderness.
An impressive feature of this wildlife sanctuary is heralded by the annual migration of the Wildebeests, Zebras and gazelles from the plains of the Serengeti that cross the Tanzania border and rivers to reach the Mara lush grassland from late June, hunted by the predators Lion, Hyena and circled by vultures as the journey unfolds.
Their dramatic Mara River crossings are a reality for travellers visiting in from July-August each year. Apart from seasonal migration, there is excellent game viewing year round. Wild game includes Elephant, Black Rhino, Buffalo, the big cats and virtually every animal to be found in Kenya has a representation here, no wonder Maasai Mara is the world's theatre of wildlife. The Mara River is home to hippos and crocodiles. More than 452 bird species have been recorded here including 53 Raptors, Vultures, Buzzards, and Eagles.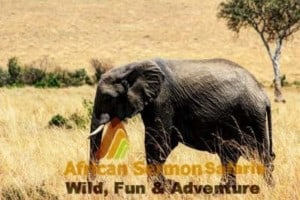 Day five. Maasai Mara safari tour
Two full days spent exploring the Maasai Mara with daily morning and afternoon game drives in the finest game sanctuary in Kenya, noted for its wildebeest migration, lions and other wildlife species. Overnight at Mara Sopa Lodge, B, L, D.
Optional tour activities:
-Visit to a local Maasai village for a Maasai cultural tour: US$ 25 per person
-Hot air balloon ride: US$ 450 per person
 
Day six. Maasai Mara back to Nairobi, 5~6hrs drive
Enjoy a pre-dawn game viewing drive and return for breakfast. Check out and then drive back to Nairobi with an en route stop for panoramic views of the Great Rift Valley at the view point to arrive Nairobi in the late afternoon. You will be dropped back to the airport for your evening flight out of Nairobi, B
Safari tour price: US$ 1698 per person sharing. Single room supplement: US$ 340
Kenyan Safari price includes:
-Guaranteed price; Guaranteed departure
-Guaranteed window seat!
-Safari transport in a minivan with pop-up roof for game viewing, photography and touring
-Full board accommodation whilst on safari
-Meals plan as described, B=Breakfast, L=Lunch and D=Dinner
-Accommodation in a choice of double, twin or triple room
-Park entrance fees to include government taxes
-Service of an English speaking professional driver/guide
-Game drives as detailed in the itinerary
-Safari holiday starts and ends in Nairobi
Kenya Safari  tour price excludes:
-Tipping to your tour guide
-Laundry service
-All drinks
-Visas
-Any local and international flights
-Items of a personal nature
-Optional extra activities and any other extras not detailed in the above itinerary