This 7 Days Kenya safari Amboseli Lake Naivasha Maasai Mara customized private Kenyan safari tour pools together some of the most amazing Kenya's wildlife spots including Lake Naivasha, Amboseli, and Masai Mara in a week ensuring the opportunity to watch varied wildlife concentrations. This Kenya holiday safari tour offers incredible Amboseli National Park back dropped by the imposing snow-capped Mount Kilimanjaro and full view of  juxtaposed largest herd of elephants not to be seen anywhere else in Kenya. Amboseli is for sure a top beautiful destination in East Africa. At the park, wildlife is abundant and nature is lush. With good luck you might spot the park's cheetah sprinting through the open savanna, which is a scene to behold while traveling on safari in Kenya.
The 7-day safari in Kenya continues into the picturesque Great Rift Valley to the fresh water Lake Naivasha for a magnificent sunset boat cruise to see snorting hippos, Fish Eagle and then take a walk on Crescent Island, home to herbivores. At Lake Naivasha, giraffes stroll among the acacia trees, buffaloes wallow in the nearby swamps, colobus monkeys call from the tree tops, and the hippos sleep and snort the day out in the shallow waters. Accommodation here is at the beautiful Naivasha Sopa Resort which is set in a grassy land dotted with acacia trees with resident giraffes, waterbucks and monkeys (Vervet and Colobus). The lodge is known as a night-stop hippos every night coming to feed on the grass of the spread-out lodge lawns.
The Kenyan safari tour culminates with a visit to the world's most celebrated wildlife haven, Masai Mara. It is a great safari tour spot for the famous gnu migration and the largest concentration of the big 5. While on Masai Mara safari tour, you get to witness the wildebeest migration as it takes its annual migration every July ~October period. Masai Mara park is Kenya's most celebrated wildlife reserve and popular all over the world. Watch leopards, lions, and cheetahs making a kill of their prey or visit a local Maasai cultural village or take part in hot air balloon tour allowing you to touch down with an African bush 'bubbly'. This is a memorable experience that is only to be experienced while on safari in Kenya.
7-Day Kenya safari to Amboseli Naivasha and Maasai Mara
Safari holiday reviews and highlights:
•    Enjoy game viewing drives in the legendary Masai Mara led by your private expert local guide
•    Closer view of largest herds of elephants in Kenya while in Amboseli National Park, with the mighty  Mount Kilimanjaro on the backdrop
•    The scenic boat ride on Lake Naivasha to see hippos
•    Stay in comfortable standard selected hotels, lodges and tented camps
•    The beautiful sunrises over the Kenyan savanna and as the big cats stalk their prey
7 Days Kenya safari Amboseli Lake Naivasha Maasai Mara itinerary, and pricing:
Day one: Arrival into Kenya's Capital
Your Kenya safari adventure begins on landing at Nairobi's airport, Kenyan capital, and safari heartland. African Sermon Safaris will meet you. You're driven to your hotel where you will have rest awaiting the start of your Kenya safari experience. Our safari leader is expected to give you a brief of your trip coming up the next morning. Spend rest of your time and night at Sarova Panafric Hotel on bed and breakfast schedule.
Day two. Nairobi to the foot of Kilimanjaro, Amboseli National Park, 4hrs drive
The safari starts with a pick up from your hotel at 8 am. You will head out to Amboseli National Park, aptly located at the foothill of Africa's mighty Mt. Kilimanjaro on the Kenya-Tanzania border. You will arrive in good time to have lunch and siesta. Meet up with your tour guide for an introductory safari drive in this park popular with the largest herds of elephants and the ecstatic sunset on Kilimanjaro in the background. On a good clear day, you will also have a spectacular view of Mount Kilimanjaro which is the highest free-standing mountain in the world. Return to your lodge for dinner and night, Amboseli Sopa Lodge, B, L, D.
Day three. Amboseli National Park
The Kenyan safari tour day is spent here in Amboseli with the routing morning and afternoon game drives. Along with the largest herds of elephants, the park is equally home to lion, wildebeest, Maasai Giraffe, cheetah, baboon, Zebra, and buffalo. Amboseli offers a safari experience packed with the bountiful wildlife found congregating around swamps. Here you get to watch the elephants roam beneath Mt. Kilimanjaro. Night at Amboseli Sopa Lodge, B, L, D.
Day four. Amboseli to Lake Naivasha, via Nairobi, 5hrs drive
Wake up to an early breakfast followed by a drive via Nairobi to the scenic Great Rift Valley to Lake Naivasha
Arrive at the lodge in time for lunch and siesta. There is a sunset boat ride on the rippling waters of Lake Naivasha to see hippos and sunset. Lake Naivasha is widely-known for its sensational bird life and lively hippos as they gurgle from the water.Your boat ride putters along as the mountains decorate the horizon and a pod of the beautiful pelicans serenely floats on the water. You eventually return to the dock for your night at Lake Naivasha Crescent Camp or Lake Naivasha Sopa Resort, B, L, D.
Day five. From the hippos of Lake Naivasha to the Maasai Mara game plains, 5~6hrs drive
Breakfast is served and then hit the road to the legendary safari plains of Maasai Mara which teems up with its amazing wildebeest migration, flat-topped acacia trees, prolific bird-life, the high concentration of wildlife and outstanding scenery. You will arrive timely for lunch at your lodge as you familiarize yourself with its allure of sightseeing, relaxation by the pool or just resting. There is a scheduled afternoon introductory safari game drive as you head out to search for animals, hopefully, you might watch a kill. At sundown, return for dinner and overnight at the Mara Sopa Lodge, B, L, D.
Maasai Mara Game Reserve:
The Maasai Mara National Reserve is an incredible unspoiled wild of excellence. The Mara guarantees its guests an abundance of untamed wildlife and the extraordinary chance of seeing the 'Big Five' in one morning, grand dawn and dusk vistas. The 1,800 sq kilometers of this veteran wildlife abode offers the exemplary blend of African safari; winding Mara River, and endless game viewing. An amazing component of this untamed life haven is proclaimed by the yearly relocation of the Wildebeests, Zebras and gazelles from the fields of the Serengeti that cross the Tanzania outskirt and waterways to finally cross the Mara from late June, chased by the predators Lion, Hyena and hovered by vultures as the trip develops. Aside from occasional relocation of wildebeests, there is superb game viewing year round. This incorporates Elephant, Black Rhino, Buffalo, the cats and each animal to be found in Kenya has a representation here, no big surprise Maasai Mara is the world's theater of natural life. The Mara River is home to hippos and crocodiles. More than 452 bird species have been recorded here including Vultures, 53 Raptors, Buzzards, and Eagles.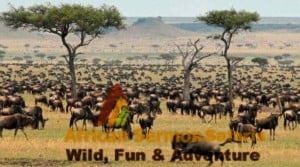 Day six. The sensational Maasai Mara safari
Today, you venture into the expansive Masai Mara in search of more wildlife with the sun spreading over the Maasai Mara Savannah. Spend the full day exploring the Maasai Mara with daily morning and afternoon game drives in this Kenya's finest game sanctuary with its wildebeest migration scenes, lions and other wildlife. Overnight at Mara Sopa Lodge, B, L, D.
Optional Kenyan safari tour activities:
-Visit a local Maasai village for a Maasai cultural tour: US$ 25 per person
-Hot air balloon ride: US$ 450 per person
Day seven. Maasai Mara tour back to Nairobi, 5~6hrs drive
Enjoy a pre-dawn safari drive with a return for breakfast. You will now check out of the lodge and make a return journey to Nairobi with an en-route stops for panoramic views of the Great Rift Valley at the view point to arrive Nairobi in the late afternoon. You will be dropped back to the airport for your evening flight out of Nairobi after such an exciting holiday safari in Kenya, B
Kenya safari holiday cost: US$ 1995 per person sharing. Single room supplement: US$ 336
Kenya safari holiday price includes:
-Guarantee price; Guarantee departure
-Guaranteed window seat!
-Safari transport in a minivan with pop-up roof for game viewing, photography and touring
-Full board accommodation whilst on safari
-Meals plan as described, B=Breakfast, L=Lunch and D=Dinner
-Accommodation in a choice of double, twin or triple room
-Park entrance fees to include government taxes
-Service of an English speaking professional driver/guide
-Game drives as detailed in the itinerary
-Safari starts and ends in Nairobi
7 Day safari in Kenya pricing excludes:
-Tipping to your tour guide
-Laundry service
-All drinks
-Visas
-Any local and international flights
-Items of a personal nature
-Optional extra activities and any other extras not detailed in the above itinerary