7 Things You Absolutely Want On a Kenya Safari
With the excitement of preparing for your Kenya safari, you might overlook the essential items you'll need to get the most from your trip.
Here we have a list of the seven things you absolutely want to take with you on your African adventure.
1. Binoculars
Binoculars are essential for the best views on your Kenya safari.
While you'll easily be able to spot large mammals like elephants and lions if they're close enough, sometimes they might be too far away for you to get a good look. Binoculars are perfect for giving you the feeling of being right in the midst of all the action.
What's more, a good pair of binoculars will enable you to see all the wildlife that Kenya has to offer, including reptiles, insects, and over 400 species of birds.
If you're unsure of which binoculars to get, go for a pair with at least an 8x magnification, but ideally, a 10x magnification is better.
2. Kenya Safari Clothing
We recommend that you take neutral-colored clothes in shades of brown, beige and khaki to help you blend in with your surroundings on safari. Avoid wearing white or bright colors as these can be threatening to the animals.
However, your clothes are likely to get dusty and dirty so there's no need to go and buy a whole new wardrobe. Instead, stick to older items of clothing that are comfortable and practical.
Many animals are active in the early hours of the morning so you're likely to start out before sunrise when temperatures can be very cold. To avoid freezing in the open vehicle, be sure to pack plenty of layers so you can easily remove when the temperatures soar.
Lastly, remember to bring a light waterproof raincoat. Kenya has two rainy seasons so it's not always possible to avoid getting caught in a short downpour while you're out on safari.
3. Sun Protection
Sunscreen can be expensive in Kenya so remember to pack some before you leave. The sun is very strong and you'll be outdoors for long periods so you should play it safe with SPF 50, as well as extra protection for lips.
A good pair of sunglasses with polarized lenses will help shield your eyes from the bright sun while you're searching the horizon for wildlife.
We also recommend that you bring a wide-brimmed hat to protect your face, ears, and neck against sunburn. And make sure it's a hat with a cord to tie under your chin so that you don't lose it in a sudden gust of wind.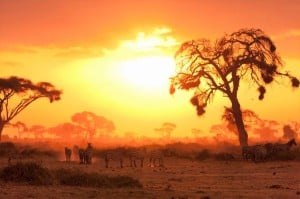 4. Camera Equipment
From flocks of flamingos on Lake Nakuru to giraffes munching on acacia trees, you'll want to capture as many of the incredible sights you'll see as possible.
Although you might make do with your smartphone for taking photos, a good camera with a zoom lens is a must for your Kenya safari.
However, you don't want to be changing lenses all the time as you might miss out on the action. We recommend a zoom lens with a wide range, to allow you to take wide shots and zoom in without having to change lenses.
And don't forget to bring spare memory cards, batteries and possibly a portable charger. The last thing you want is your camera battery dying just as a group of zebras comes into view.
5. Comfortable Footwear
Heavy-duty hiking boots aren't really necessary for the type of walking you'll be doing on a Kenya safari. Your main concern should be that your footwear is comfortable and practical.
Light trail running shoes are a great option for all year round as they're comfortable and breathable but will give you stability and protection on uneven terrain. Or you might prefer some hybrid shoe sandals for daytime use in hotter seasons.
If possible try and get waterproof or water-resistant shoes just in case you get caught out, especially if you're on safari during the rainy season.
But most importantly, whichever shoes you choose to bring, make sure you 'wear them in' before you pack or you might have to deal with painful blisters.
6. Insect Repellent
Bugs like mosquitoes and ticks in Kenya can spread diseases which cannot be prevented by vaccines or medicines so it's important to avoid being bitten as much as possible.
Lightweight clothing covering arms and legs can help, but it is essential to use an effective insect repellent on a Kenya safari.
Repellents such as oil of lemon eucalyptus (OLE) will protect you from mosquitoes but for protection from ticks, as well as mosquitoes, you need a repellent with DEET.
The percentage of DEET contained in DEET-based repellents indicates the strength and duration of protection. The higher the concentration of DEET (which can be up to around 98%) the longer you will be protected.
And like sunscreen, insect repellent can be expensive in Kenya so stock up before you leave home.
7. Water and Snacks
Although our Kenya safari trips include scheduled stops for food and drink, a day out on safari can be unpredictable. If there's a wildlife sighting around lunchtime, you won't want to leave the animals just so you can get something to eat.
For this reason, it's a good idea to bring a bottle of water and some snacks to keep you going. Some good options which won't melt or spoil in the heat are nuts, dried fruit, cereal bars and plain cookies.
And you don't want to get dehydrated so be sure to bring at least one liter of water per person, which should be enough for a few hours out in the heat. Then you can buy more or fill your bottle up at picnic spots where there is clean drinking water available.
With all these items packed you'll be sure to have a safe and enjoyable safari experience with memories that will last a lifetime!
If you have any questions about our Kenya safari tours, contact us for more information.