Kenya wildlife safari
The Kenya wildlife safari explores Kenya's most famous wildlife sanctuaries and discovers the world-renowned biodiversity of East Africa. The African safari tour departs Nairobi and past snow-capped Mt. Kenya to Samburu National Reserve. From semi-desert Samburu, the Africa travel adventure goes to the world-famous Treetops Lodge, built on stilts in the lush forest of the Aberdare National Park or stay at the only tree hotel ever to be built on Mount Kenya National Park, Mountain Lodge Serena. Traverse the Rift Valley to Lake Nakuru, where pink flamingos by the thousands dance along the lakeshore, 'pink lake'. Your Kenyan experience is never complete without a visit to the Masai Mara National Reserve, the northern extension of Tanzania's famous Serengeti Plains and Kenya's premier place for wildlife viewing. You may opt to take an optional hot air balloon ride to soar in the air for an aerial game viewing only to touch down for an African bush champagne breakfast. Read more about our itinerary here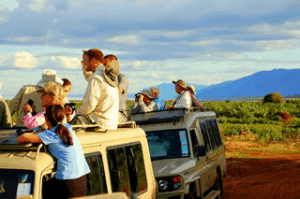 On a Kenyan safari the sighting of animals is guaranteed, if you are traveling with an expert safari guide you might be lucky to spot something a little more special than a zebra. African Sermon Safaris tour guides are experts in this area and you will be pleasantly surprised by what you see under their guidance.
Lions
Lions are the largest big cats found in Africa. Very popular with safaris, the great predators generally live in prides of up to 3 males and a dozen females.
Most active at dawn and dusk, lions can often be found resting in the shade during the day. Come prepared with your excellent cameras for a special shoot and documentation of sighting the lions, your grand children will be amazed when you show them.
Cheetahs and Leopards
Cheetahs and Leopards are likely to be spotted near trees, resting in the shade or munching their prey.
Leopards are the only big cat to take their kill up into a tree to eat and are often left bait near lodges so that tourists can catch a glimpse of the magnificent creature.
Buffalo
Buffalo are in fact very aggressive and should be avoided by tourists walking on foot. Even in a vehicle it is inadvisable to get too close, especially when buffalo calves are in the herd.
Giraffes and Elephants
Other Kenya animals that are favorites with tourists are giraffes and elephants. The Amboseli National Park is home to herds of both and is one of the best places for sightings.
It is possible to get quite close to the animals in some situations, a truly incredible experience as both giraffes and elephants are huge!
The African Elephant is the largest mammal that lives on the land. Giraffes are the tallest animal on Earth and are quite a sight in the flesh, reaching up to 5.5m high when fully grown.
Rhinos
The rhinoceros is a large, primitive-looking mammal that dates from the Miocene era millions of years ago. You can spot both the black and white rhinos while on Kenya safari.
They might look formidable with their two horns, but rhinos are vegetarian and live alone or in pairs.
Other wildlife found in Kenya includes the hippopotamus, warthogs, wildebeest, crocodiles, baboons, vervets, zebra, impala, caracal, giant forest Hog, Oryx, Somali ostrich, gerenuk, hyena, Waterbuck, serval Cat, antelope, lesser kudu, crocodile, mongoose, hyrax, dik dik, white columbus monkeys, eland, warthog, impala, and the nocturnal porcupine among others.
Birdwatchers can see pelican, bee-eater, kingfisher, African fish eagle, martial eagle, pygmy falcon, Peter's finfoot, pel's fishing owl, roller, bee-eater, starling, weaver, Long-tailed and great cormorants, black herons, grey-backed fiscal, yellow-collared lovebird, Egyptian vulture, hooded vulture, griffon vulture, Nubian vulture, white-backed and white-headed vulture, Ostrich, Cardinal Quelea, woodpeckers (Golden-tailed, Little Spotted and Fine-banded) among others
Remember that even the best safari guide can't guarantee you will see all of these Kenya animals at the same time in one safari itinerary. If seeing particular animals is your key goal or highest priority for your Kenyan safari, please highlight this to us while initially booking the package so that we can better advice which is the best itinerary that will enable you to quench this goal. We are happy when you are happy and satisfied when you are satisfied by your Kenya safari tour.