Thousands of wildebeest have begun to surge across the mighty Mara River, in a migration crossing that is truly one of the greatest wildlife wonders in the world.
Often depicted as an event that takes place annually around the month of August, the Great Migration is in fact a continuous year-round cycle driven by a need to search for food and water between Kenya and Tanzania.
Below is a summary guide to help you understand the great wildebeest migration:
1. Late November and December
After the short rains at the end of October into early November the wildebeest move down the eastern limits of the Serengeti system onto the short grass plains. By December they are spread throughout the southern areas.
2. January, February and March
In the early months of each year, the fleshy grasses in the deep south of the Serengeti system feed the herds not only of the wildebeest, but also of thousands of zebra and other plains animals. Over a peak two to three week calving season some average 500,000 wildebeest are borne.
3. April and May
The herds begin to drift northwards drawing with them thousands of zebra and smaller groups of antelopes. Gradually the movement gathers momentum and by the end of May the wildebeest start to mass in the Serengeti's Western Corridor.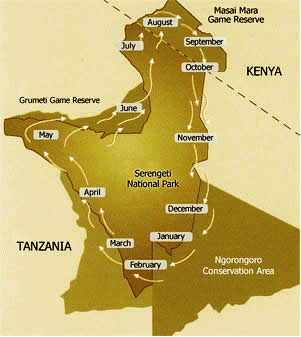 4. June and July
During these months, the herds gather along the pools and channels of the Grumeti River. The plains are dry now and there is a sense of need as they press northwards, beckoned by the Mara's well-watered grasses. Thirst, hunger, exhaustion and predation see the demise of some around 250,000 wildebeest on the long south to north trek. The Grumeti River crossing is not as spectacular as the Mara crossings but is dense enough to provide the Grumeti crocodile with a generous feast.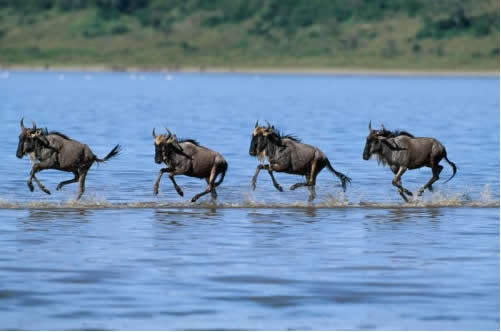 5. August, September and October
In August the herds spread through the northern Serengeti and are now faced with the challenge of the Mara River. In years when the river is in full spate, the panic and confusion at the crossings combined with predation and surging currents can cause massive loss. But even in years of relatively gentle flow the crocodiles take their toll, not to mention the lions and other large predators that patrol the banks ready to ambush a none suspecting wildebeest. By October the madness has ended and the migrating beests are moving sedately southwards to complete the cycle.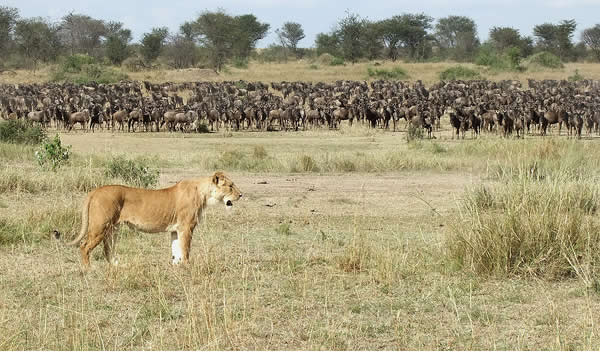 For more information on the wildebeest migration contact us
To book a safari trip at the Masai Mara to experience the splendor of the "The Great Migration", click here