Kenya safaris
Kenya safari tours and holidays
Learn more about booking an all inclusive Kenya safari tours and experience some of the best game viewings in the world on a tailor-made vacation and set out onto the legendary savannah of the Masai Mara. The concept of featured safaris was born here, making the country famous world over. Her wildlife population is beyond most people's expectations both in quantity and variety.
If you are looking for the best place to go on your Kenya safari holiday, find out more about perfect Kenya safari tours with Masai Mara at http://www.africansermonsafaris.com. You might want to combine Kenya and Tanzania safari tours to discover the East African beauty. Nairobi safari packages are also included as part of your African safari holiday. There are Nairobi safari tours listed within the Nairobi day tours section of this web page.
Significant differences in height levels provide optimal conditions for diverse forms of life in the beautiful and dramatic landscapes. The country's 582,600 km2 – like France – is traversed across the equator and along the length of the Great Rift Valley, which tourists often pass. Because of the latitude and altitude levels, the weather is usually very pleasant with sunny days. Masai Mara grass savanna, semi-desert Samburu, Amboseli with Kilimanjaro in the "backyard" birds around the many lakes and highland lush forests are wonderful experiences that can withstand repeated visits.
And here in the bush find even the most discerning guest accommodations to suit the taste. Kenya has a high level of service and a friendly population that makes you fall in love with the country. Do not hesitate anymore – come travel and be part of the Kenyan tour experience to the popular Masai Mara tour to see wildebeest migration. No wonder all inclusive Kenya safaris Masai Mara remain the world's most popular African safari holidays including Kenya safari tours, Tanzania safari tours and holiday.
When you think of a holiday, Kenyan safari tours, capture an imagination of yourself traveling on the side of a thundering herd of wildebeests or sensations of the vibrating footsteps of an oncoming large herd of elephants. Visualize the ecstasy of hiking snow-capped mountains, relaxing in cool highland hideaways, and crossing sweltering deserts.
From excursions, photography, spa treatments, and horseback riding to passionate getaways, this impressive country provides fabulous backdrops and revitalizing interactions; uninterrupted opportunities for discovery, adventure, and relaxation. No other country world over offers the traveler such enormous variety to see and do, rather more than you would ever expect or imagine.
Traverse the Amboseli, Samburu, Lake Nakuru, Ol Pejeta Conservancy, Masai Mara, Lake Naivasha and more visiting a variety of wonderful environments by road, for a more economical experience or by air for a more luxury option. Kenya safaris vary from budget camping to luxury lodge safaris and tented camps. You have endless choices available that will enhance your Kenya safari tours.
Nairobi is the world's famous safari capital of Kenya and definitely entire Africa. It's also the entryway to East Africa – Kenya, Tanzania, Uganda, Rwanda and Burundi. Due to its strategic and central location in Kenya, Nairobi City is a usual beginning point for Kenya and Tanzania safari tours to the major national parks and game reserves. On this site, you will find a wide range of affordable and customized Nairobi safari packages, Kenyan safari tours and excursions within our rousing selection. Below, you will find some of the featured safaris in Kenya selection to choose from.
There are multiple Nairobi safari tour packages to select from, to suit a variety of interests befitting any budget. To pick which safari in Kenya adventure best fits you, then visit our Nairobi safari packages page and surf our full range. Our all inclusive Kenya road safaris are predominantly popular, including start and end in Nairobi safari capital. Importantly, Masai Mara tours provide the opportunity to witness the Great Migration, which has been declared the world's new 8th wonder. Other safari tour excursions visit some of the best known wildlife reserves and landmarks.
Kenya safaris and holidays
Kenya's safari destinations in the wildlife national parks, reserves and conservancies including the Masai Mara, Aberdare National Park, Lake Nakuru, Amboseli, Samburu, Laikipia and Tsavo are some of the most popular tourist spots.
The safari tours in Kenya and holidays accommodation in hotels, lodges, tented camps and parks in this country are striking, incomparable, and are bordered by game-rich lands. Here, you find game parks bursting with an incredible diversity of animals extending from the more than a million and a half wildebeests that take part in the Masai Mara annual migration from July to October to the largest herds of elephants in Amboseli with Kilimanjaro in the backdrop and the rare Reticulated giraffe of Samburu. Most of the Kenyan safari tours have featured safaris to Amboseli to be able to have the best and magnificent views of the snow-peak Kilimanjaro.
Departing from the Kenyan safari tours capital city, Nairobi as well as the coastal beach resorts of Mombasa, Watamu, Diani, and Malindi, our featured safaris tour are reasonably priced, and can be custom-made to suit your budget while still providing that African safari adventure experience that lasts in a lifetime. When you take part in a featured safaris in Kenya will for sure live forever in your memory.
When is the best time to visit Kenya?
Kenya being located in the tropics has fine weather. There are two dry seasons being January to February and June to October, being the best time to visit Kenya safari tours. The highest rainfall season occurs in March to May and this is when some safari camps and lodges close due to inaccessible roads. November to early December rain with light evening showers which normally don't have a great effect on your game viewing tour.
Game viewing safaris in Kenya are generally very good all year round, predominantly in the Maasai Mara where the excellent concentration of wildlife ensure great sightings at just about any time of year. If you wish to visit Kenya to see Masai Mara wildebeest migration, then go between early August to the end of October when the large herds have migrated into Kenya from Tanzania's Serengeti National Park. During this time, you might be luck to see the Mara River crossings. The shoulder seasons (April, May and November) are when you will often pick up great bargains and avoid the seasonal crowds in the more popular parks such as Maasai Mara, Samburu, Nakuru, and Amboseli.
Kenyan tours and holiday packages: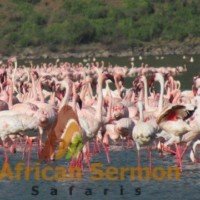 5 Days Maasai Mara and Lake Nakuru Kenya safari
The best way to enjoy Africa is on a Kenyan safari holiday. Kenya is definitely home to a rich diversity…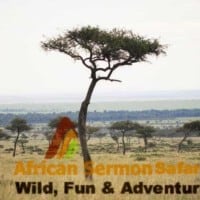 Masai Mara National Reserve in Kenya – Wildebeest Migration
Maasai Mara Game Reserve It is also known as Maasai Mara and locally as The Mara. The Maasai Mara Game…