While going to Climb Mount Kenya, Africa's second highest summit, below would be important issues to take care of. Trekking Mount Kenya & Climbing Mount Kenya is one of the most challenging activities and yet rewarding.  Mt. Kenya Climb can be accomplished in 4-5 days for an average fit hiker.
Climbing Mount Kenya- Getting to Mount Kenya
Going out Mount Kenya trekking trip includes your transport from Nairobi to the base of the mountain and return back to Nairobi. It would normally take approximately 4hrs to get to the base of the mountain, weather conditions not withstanding. Climbing Mount Kenya through the rain-forest to reach Lenana Peak is one of the most amazing experience one can enjoy while hiking this great African peak.
When is it best to trek Mt. Kenya?
As a general rule you can trek Mount Kenya at any time of year, but the paths will be better and you will stay drier outside the rainy seasons (particularly the long rains in April and May). The best time to trek is early in the year (January and February) before the long rains and in the summer months of July, August and September. Having said that, even during the long rains in April and May there is usually a solid dry spell each day and as long as you come equipped with rain gear and garters you will be fine.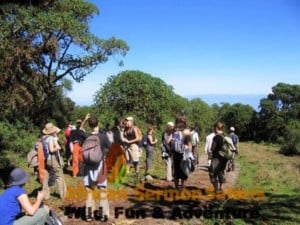 Who is to Climb Mount Kenya?
Mount Kenya climbing to 5,000mis no double a serious undertaking. Mount Kenya is elaborately accessible to anyone who has a decent level of hiking fitness.
Of importance is the priority to avoid altitude sickness. With this in mind, this trekking itinerary is designed to help the would be hikers and trekkers with the need to acclimatize at a gentle pace. Your expert Mount Kenya guide will offer further advice to you and at the same time encourage that you take a gentle pace (slowly slowly) and the need to drink plenty of water.
Before you attempt trekking on Mt. Kenya, you should have a decent level of fitness and able to stand up to 6 to 8 hours of comfortable walking on difficult terrain.
Remember accommodation during the Mount Kenya climbing is basic. You need to remember to bring your 4 season sleeping bag that can stand -10 degrees Celsius as from 4200m you encounter snow all the way to the peak.
Mount Kenya climbing itineraries and prices:
1. Climb Mount Kenya through Chogoria route
2. 5 days Mount Kenya climb Up Sirimon route Down Chogoria route