On this safari in Kenya web page, please read through some of the important things you need to know before you go on your Kenyan safari tips in Africa. Here, you will find important tips to help you plan your amazing Kenya safari tour:
Kenyan Safari Tips
Getting There to Kenya
Before you go on your safaris in Kenya, it is important to note that Kenya has three international airports; Jomo Kenyatta International Airport in Nairobi, Moi International Airport in Mombasa and Moi International Airport in Eldoret.
These airports service numerous international carriers including the national airline Kenya Airways. Kenya has good connections to destinations throughout Europe, the Asia- Pacific region, USA, and Africa.
Kenya can be accessed by road from Tanzania, Uganda, Ethiopia, Sudan and Somalia. Immigration should be processed at land border stations.
Entry by sea is possible, and immigration should be processed at a port facility.
Passport Requirements for safaris in Kenya
A passport that is valid for at least six months after the end of your trip is required to enter and depart Kenya. Please ensure that the name on your passport matches all your travel documents. Your passport must have at least two blank pages for the entry stamp. This cannot include the 'endorsement' page at the back.
Please make a photocopy of your passport's identification page and keep it separate from your original. It's also a good idea to leave a digital copy with someone at home. This may speed up the replacement process should you lose your passport.
Before you go on your Kenyan wildlife safari: Visa Requirements
A visa is required prior to entry into Kenya.
You can obtain Kenya Tourist Visa upon arrival at the airport in Nairobi. The cost of the visa is US$50 per person and must be paid in CASH only. You can also obtain a Kenyan Tourist Visa ahead of time through an online application portal by visiting: https://www.ecitizen.go.ke. The online visas will be processed and sent to the applicant(s) online who are then required to print out the approved visa and present it to an Immigration officer at the point of entry. For more information, read further: http://www.magicalkenya.com/visit-kenya/visa-information/
These requirements change often and therefore it is recommended that you check with the Embassy of the Republic of Kenya for the most up- to-date information.
Insurance Recommendations for Safari tours in Kenya
Cancellation and Medical Insurance is highly recommended as it can safeguard against the expenses associated with in-country medical emergencies, lost or delayed baggage and emergency cancellation or interruption of your trip. Please ensure your policy will provide you with upfront medical coverage so that you are not responsible for a hefty doctor's bill while away. Insurance can be purchased through us.
Vaccination Requirements for Kenya Safaris
Some vaccines require more than one dose or a major length of time to be effective. For that reason, it is recommended to see your doctor or health provider at least 6 to 8 weeks before your trip. For all vaccinations and health requirements, you can also refer to the recommendations from:
World Health Organization (WHO): http://www.who.int
Centers for Disease Control and Prevention (CDC) http://wwwnc.cdc.gov.
Currently Required Vaccinations: A yellow fever vaccination certificate is required from travelers over one year of age arriving from infected areas. It must be given at least 10 days before your trip in order to be effective. A yellow fever shot is NOT required for visitors from U.S. and Canada direct, however, if you are traveling through Kenya into Tanzania and/or Zanzibar, you will need the vaccine.
Other vaccines to discuss with your doctor or travel health professional:
Typhoid recommended but not required for entry
Poliomyelitis (polio) recommended but not required for entry
Malaria is present although not generally in Nairobi and the highlands (above 8200ft/2500m). However, malaria pills are an option to discuss with your doctor.
You may also want to discuss Tetanus, Diphtheria and Hepatitis B & E, Meningitis, Bilharzia (schistosomiasis) from swimming or paddling in fresh water, dengue fever from mosquitoes and rabies depending on your time of visit and where you'll be traveling
Remember that the best precaution is the preventative kind. Wearing long sleeves is a good idea. To reduce the risk of contracting yellow fever, dengue fever, and malaria, literally apply mosquito repellent that contains DEET to your skin and clothes and wear long-sleeved shirts and trousers/slacks especially in the evenings.
Medication Requirements for Kenya Tours

If there are any medical items essential to your health, such as prescription drugs or corrective eye-wear, bring duplicates and divide them between your checked bags and hand luggage. While non-prescription drugs such as aspirin are generally available, it is difficult to replace prescription items.
Other recommended Items:
Sunscreen (SPF 30 or higher), after-sun lotion, lip balm, sunglasses
Insect repellent with a high concentration of DEET (at least 30 percent)
Basic medicine kit (painkillers, band-aids, antiseptic cream, etc.)
Digestive aids such as Imodium, Pepto-Bismol. Also, re-hydration salts and anti-diarrhea preparations.
Hydrocortisone tablets or cream for allergic skin reactions and bites
Anti-nausea tablets if you suffer from motion sickness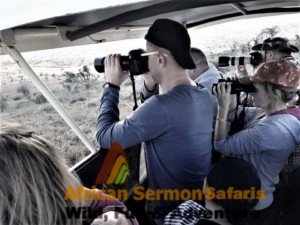 Weather, Seasons and Climate in Kenya; Best time to go on safaris in Kenya
Kenya's climate is warm and humid at the coast, cool and humid in the central highlands, and hot and dry in the north and east. Since Kenya lies on the equator, daytime temperatures in most parts are consistently warm all year. Kenya has a long rainy season from April to June, and a short rainy season from late October to mid-December. The best game-viewing is during the dry winter months (May – August) and warmer spring months (September & October). For up-to-date forecasts, check www.weather.com.
Clothing and Essential Items for Kenyan safaris to know before you go

It is important to pack clothes for warm days and cool evenings, as well as a warm jacket for early morning game drives. Light, quick-drying, practical clothes are advisable. Non-synthetic, comfortably fitting, cotton clothing breathes more easily and will keep you cooler under the hot African sun. Shorts and T-shirts are normally the order of the day and are replaced with long-sleeved shirts and trousers at night for warmth and protection from insect bites.
Preferred colors on safari are khaki, beige, olive green and brown. You are less visible in the African bush and therefore less threatening to the animals. These colors also help to deflect harsh sun and are less likely to attract mosquitoes.
Other essential items:
Sweater, jersey pullover, safari jacket or windbreaker for the evenings
Swimwear
Bandannas, handkerchiefs, and hat with a brim
For upscale lodges and nights out in Nairobi, you may want to pack something more formal.
Photographers:
Video camera, camera with zoom lens in a dust-resistant case, sufficient memory cards, a spare camera battery and charger, binoculars, bird and animal checklists
Electricity, Phone,  and the internet in Kenya – Before you go on your safari  tour in Kenya

Electricity: Electricity in Kenya is 220/240 volts and 50HZ. Plugs have three rectangular prongs that form a triangle. To conserve power in environmentally sensitive areas lodges may turn off electricity overnight. If you have a medical device that requires 24-hour electricity please contact your travel consultant.
Phone: Your cell phone will work in most areas while on safari if you have a "Smart Phone." However, roaming can be quite expensive so we do strongly recommend that you per-purchase a data and roaming plan with your carrier before travel.
Internet: Local connections are exceptionally slow and can be costly (as much as $5-10 per half hour). "Smart" phones such as BlackBerry and i Phones will actually download data much faster than computers. Again, roaming and data charges can be exceptionally high – so please talk to your phone provider to pre-purchase a data plan for when you are on safari.
Internet cafés and wireless access are available in most urban areas, airports, and hotels. Please note that wi-fi and internet service provided in properties is at the discretion of each establishment and African Sermon Safaris has no control over this. Please feel free to check with your Sales Consultant before travel if you'd like to know the internet set up at each of your properties or contact the properties directly so you are aware of their internet policy if this is important to you. You may like to speak to your internet provider prior to travel to arrange a roaming package.
Currency in Kenya
The currency in Kenya is the Kenyan Shilling (KSh), divided into 100 cents. Notes are in denominations of KSh 1,000, 500, 200, 100 and 50. Coins are in denominations of KSh20, 10 and 5. Bring plenty of cash, an ATM card, and a credit card, (see below).
Be sure to have a combination of 1's, 5's, 10's and 20's and 50's. Larger bills can be used for your visas and to tip guides, while smaller funds are used to make small purchases or tip service providers.
How much money to bring: Generally speaking we advise bringing at least $500 – $700 USD per person to cover visas, tipping and spending money. The official exchange rate is published daily in the newspapers and online at www.xe.com.
Before you go, it is important to note that only newly printed USD (currency printed 2006 or later) and local currency will be accepted in East Africa. Any USD currency printed without the new security measures will not be accepted anywhere. Hopefully, these tips are able to help you plan rewarding Kenya safaris and the before you go tips give more insights. If you wish to learn more about Kenya safari tour africansermonsafaris check out http://africansermonsafaris.com. You will certainly get an affordable lifetime experience.