Marangu route is probably touted to be the easiest of all the Kilimanjaro climbing routes. Kilimanjaro Marangu Route has the best accommodation in mountain huts as compared to all the other routes that offer camping only.
Kilimanjaro Marangu Route
Kilimanjaro climbing Marangu route is casually referred to as the Coca-Cola route as it is considered to be the easiest route. It has accommodation entirely on huts which are the most comfortable on Mount Kilimanjaro. The route is the most popular of all the routes to the summit of Kilimanjaro. In essence, hiking duration on this route is five or six days, with the six day including an extra day for acclimatization to the Kilimanjaro altitude.
It is best to consider taking a 6-day trekking as this will have an added advantage of you being fully acclimatized prior to reaching the summit. This does increase your chances of hitting Kilimanjaro summit with ease.
In total, the Kilimanjaro climb route covers a hiking distance of approximately 96 km. This distance does not include acclimatization on Kilimanjaro with varied vegetation type.
On Kilimanjaro climb via Marangu route, it is possible to buy beers, soft drinks, chocolate and bottled water at all the Kilimanjaro huts on this route.
Highlights of Kilimanjaro trekking Marangu route:
•    Trekking Kilimanjaro to the highest peak in Africa
•    Climb Kilimanjaro in five days without an acclimatization day
•    Superb summit success rate while hiking Marangu route on Kilimanjaro
•    Stunning views from the summit of Kilimanjaro
•    Climbing Marangu Route with diverse ecosystems from rain-forest to alpine desert
•    An expert local Tanzanian guide to help you accomplish this remarkable hike to Africa's top peak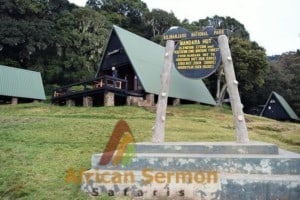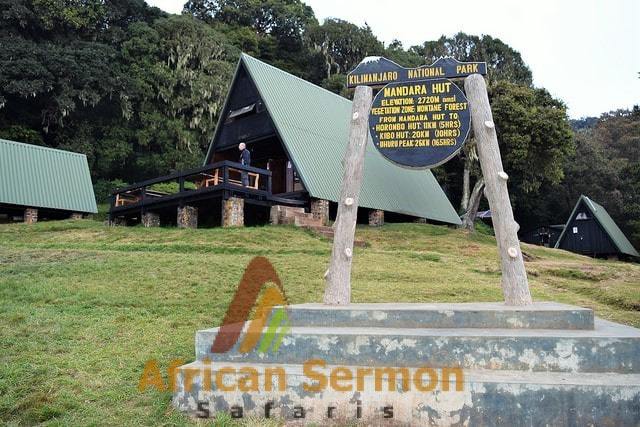 Hiking Kilimanjaro schedule and pricing:
Day one. Arrival at Kilimanjaro Airport and transfer to Moshi
On arriving at Kilimanjaro Airport, you will be collected and transferred to Moshi, the base town of Kilimanjaro. Spend the night at Keys Annex Hotel where you will be on bed and breakfast as you prepare for your trek.
Day two. Moshi to Marangu Gate (1980m) and hike to Mandara hut (2700m), 5 hours, 12km
You much awaited Kilimanjaro trek starts today. You are picked up from your hotel for a drive Kilimanjaro National Park at Marangu Gate. The journey to the gate goes via the Marangu Village. Start hiking on a cleared ridge track that goes through the rain forest.  This forest is covered with mist and drenched with moss. It is in this forest that animals on Kilimanjaro are to be found. The trail hikes to the edge of a stream amid undergrowth. You will then arrive at the wooden group framed huts, Mandara Hut, sleeping in bunkhouses with solar lighting. Night at Mandara Hut at 2700 m, B, L, D.
Day three. Starting from Mandara hut (2700m) to Horombo hut (3720m), 6hrs hike for 15km
The day begins with trekking from Mandara hut where the trail passes a short section of forest to  Maundi Crater to then emerge into where there is a transition from rain forest to the moorland. A short detour is worth in order to scramble upwards the rim of the Maundi Crater, a very impressive view of Kibo Crater. During a clear day, The Kibo Crater will flicker in the distance with her majestic glaciers against the morning sun. When you are in the moorland there will be able to see a number of Kilimanjaro's spectacular plants including giant lobelia and groundsels. Today's climbing will take 6 hours to reach Horombo hut for the night, B, L, D.
Day four. Acclimatizing at Horombo hut (3720m)
The day is spent acclimatizing with hiking to Mawenzi Hut through Zebra rocks and then descend back to Horombo. This hike would last 3 hrs upwards and 1hr 30 minutes descent. You are reminded at this point to drink a lot of water and start move slowly as you gain altitude. Spend the night at Horombo Hut, B, L, D.
Day five. Start from Horombo hut (3720m) to Kibo hut (4700m), hiking 6 hours, 15km on alpine desert
We continue with hiking into the Alpine desert vegetation. Starting from Horombo, there exist two trails to the Saddle located between Kibo and Mawenzi Peaks. We recommend using of the lower route forking left as it is easier and pass through the last water point at 4130 m. Here, you have to fill your water bottles. You arrive at Kibo Hut after 6 hrs of trekking. From here, the summit is just an ascent of 1195 m. You are requested to retire to bed early enough and ensure you catch enough rest, B, L, D.
Day six. SUMMIT DAY, Kibo hut (4700m) to Uhuru Peak at 5895 m and descend to Horombo hut (3720m)
You will rise at about 23:30 and take some tea and biscuits. Start off towards the summit by shuffling into the night. The going now gets tough and this is the most trying section. You will hike on rock trail to Hans Meyer Cave at 5150 m where you can take a bit or rest. You then zigzag on a very steep stone scree section to Gillman's Point at 5681 m on the crater rim.  You require great mental and physical effort, but you are recommended to move slowly. After Gillman's, snow is encountered upwards to the summit at 5895m. Finally, you hit Uhuru Peak and spend a few moments with photography.
You now descend back to Kibo Hut for some rest followed by another 3 hrs descent trek to Horombo Hut for the night. This is one of the toughest days with about 14 hours of hiking (8 hours to Uhuru Peak and 6 hours to descend all the way to Horombo Hut for 21 km, B, L, D.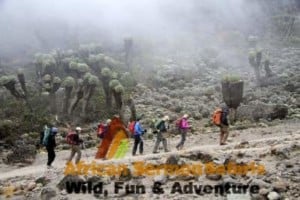 Day seven. From Horombo hut at 3720 m to Marangu Gate, 1980m, 6 hours hiking for 27 km
Immediately after breakfast, descend via Mandara Hut for 6 hrs to reach Marangu Gate from where you receive your certificate of achievement. Return back to Moshi at Keys Annex Hotel for the night on bed and breakfast, B.
Day eight. Departure
You today be transferred back to Kilimanjaro Airport to catch your flight back home, knowing you have successfully climbed Mt. Kilimanjaro. You can still be able to combine this Kilimanjaro walking with a Tanzania safari tour,  B
Kilimanjaro climb Marangu route price: US$ 1,400 per person sharing
Marangu route price includes:
– Accommodations as per the Kili trek schedule described
– Meals as denoted (B = Breakfast, L = Lunch and D = Dinner)
– Guided Kilimanjaro trek as per itinerary
– Bed and breakfast accommodation in Moshi
– Transport from Moshi to Londorossi gate and return from Mweka gate to Moshi
– All ground transportation and transfers per itinerary
– Camping fees for the Kilimanjaro trek
– Kilimanjaro National Park gate fees and permits
– Kilimanjaro rescue fees (as required by national park)
– Professional certified, experienced English-speaking guide, porters, and cook
– All meals while on the mountain
– Salaries and wages for all crew members
– High altitude tents, foam mattresses, cooking equipment and eating utensils
– Airport transfers on arrival and departure
Kilimanjaro climbing price does not include:
– Oximeters
– Meals not listed on the itinerary
– Tips for the guides, cook, and porters
– Personal expenses (visas, airport taxes, telephone, airport taxes, internet, etc.)
– Any international and domestic flights
– Sleeping bags and personal climbing gear