Have you been dreaming of taking part on Kilimanjaro climb? Then this Lemosho Route 8 days Kilimanjaro climb trip is for you. It is a challenging trek and yet rewarding when you get to the snow-capped Uhuru Peak, the roof Africa.
Lemosho Route 8 days Kilimanjaro climb
Lemosho Route 8 days Kilimanjaro climb route is said to be the longest of all the standard route. The route is without any doubt the most beautiful and scenic. While trekking on this route, you should expect some of the most amazing scenery not seen anywhere else in Africa. The route has well-preserved forests, large sweeping moorland, the heather forests and the high desert. The Lemosho route offers an easy walking days with plenty of opportunity to adjust altitude.
Lemosho Route 8 days Kilimanjaro climb route approach the summit from the west with entry trail head at the Londorossi Gate in one of the most remote part of the region. The trail-head is a little more difficult to access and this makes Lemosho
route to be a more expensive option.
In terms of difficulty, Lemosho route is quite challenging and thus considered to be one of the most difficult Kilimanjaro climbing routes.
You can do the Lemosho in seven days instead of eight. The only difference is days two and three on the eight day climb are combined to one, thus doing eight to nine hours of climb all the way from Mti Mkubwa to the Shira Two Camp. The downside of this is that the extra day is more challenging and obviously cuts the climbers' acclimatization time. This can hurt the chances of reaching the summit with fewer altitude problems.
Highlights of 8 Days Lemosho Route:
•    Trekking Kilimanjaro from the remote parts of the country
•    The opportunity to full acclimatize for the successful ascent to Uhuru Peak
•    Soak up in hiking from the most varied and scenic route up the Mt. Kilimanjaro in Tanzania
•    Walking the less-trekked Lemosho route to see the the greatest curvature of the earth
•    Walking across six ecological zones from the lush rain-forest to the harsh but beautiful arctic zone.
Lemosho Route 8 days Kilimanjaro climb hiking itinerary and pricing: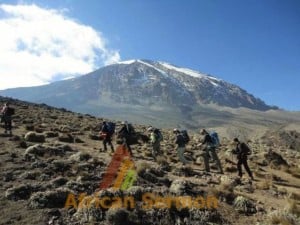 Day one. Kilimanjaro Airport arrival and road transfer to Moshi
You will arrive Kilimanjaro International Airport where you will be met and assisted. You are then driven to Moshi where you stay overnight at Keys Annex Hotel on bed and breakfast. Spend the rest of the day preparing for the next day's much awaited hiking to Kilimanjaro.
Day two. From Moshi to Londorossi Gate (2100m) and Mti Mkubwa Camp (2750m), 3 hours montane forest hike
From Moshi, your day starts breakfast and a 2 hour road transfer to Londorossi Park Gate. At the the gate your expert guides, cook and porters pack all the supplies and your climbing equipment. It is at this park gate that you will receive your day's lunch pack. Here, you can also buy any mineral water that you might need. From the Lemosho village, the forest track requires 4WD vehicle leading to Lemosho Glades (2100m) which is 11km and  45 minutes. Lunch stop is made half way or on reaching reaching the Machame camping area. You will hike along the forest trails up to Mti Mkubwa Campsite at 2750m in 3 hours. Dinner and the night at Mti Mkubwa Camp with night temperatures dropping to freezing point, B, L, D.
Day three. Mti Mkubwa (2,650 m or 8,692 feet.) to Shira One Camp (3,609 m or 11,841 feet.), 5 – 6 hrs
Today will see you hiking to the end of the forest and the beginning of a climb is through heather forest to the edge of the Shira Caldera. The walk will lead you to the scenic Shira One Camp in a total of 5 – 6 hrs covering a hiking distance of 12 km with an altitude gain of approximately 950 m. You will have the night at Shira One Camp, B, L, D.
Day four. Shira One Camp (3,609 m or 11,841 ft.) to Shira Two Camp (3,849 m or 12,628 ft.), hiking of 5 – 6 hrs
The day is spent on a gentle 5km hiking across the beautiful Shira Plateau. You will have the possibility of side trips to Shira Cathedral. This is a good day to acclimatize You will spend the night at the first high camp at Shira Two on 3849 m, B, L, D.
Day five. Shira Two Camp (3,849 m/12,628 ft.) to the Barranco Hut (3,948 m/12,956 ft.), 5 hrs hiking
The real work of climbing Kilimanjaro begins here, covering 6km. The day's main feature is having a slow climb to Lava Camp. Then a descent to the scenic Barranco Camp. The Climb-High-Sleep-Low principle of altitude adjustment comes into play. The descent to Barranco Camp lasts about 2 hours with great opportunities to shot some beautiful photographs of the Breach Wall and Western Breach. The Barranco Camp is situated in a valley beneath the Breach and the Great Barranco Wall. This will provide you with an impressive sunset as you await your dinner to be prepared. Night at the Barranco Camp, B, L, D.
Day six. Barranco Hut (3950 m)  to Karanga Valley Camp (4200 m), 3hrs hiking to acclimatise.
Having spent a night at the Great Barranco Wall, you head up this awesome looking obstacle that turns out to be easier than you would have anticipated. Above the Heim Glacier, you will have the chance to appreciate just how beautiful and mighty Kilimanjaro really is. The trail then descends through the Karanga Valley over dominant ridges and valleys. At this point Lemosho route climbers are advised to take a rest. Dinner and the night is at Karanga Valley Camp on 4200 m, B, L, D.
Day seven. Karanga Valley (4200 m) to Barafu Camp (4600 m), with hiking time of 3 hours  for 6 km
Today, the route links up with the Mweka route. You will use this as your preferred route downwards after the summit. You turn left up the ridge and after an hour or so reach out to Barafu Hut. There is no water here at Barafu Camp and th last water spot on the route is the Karanga Valley. The Barafu Camp is totally exposed to the ever-present storms and your tent is pitched on a narrow but stony and dangerous ridge. From Barafu Camp, the summit is now a further 1345m upwards which you make the final ascent tonight. You should now prepare your equipment to include ski stick and thermal clothing for this final summit attempt. Replace your headlamp and also camera batteries, and make sure you got a spare set available. In order to prevent freezing it is advisable to carry water in a thermal flask. Head to bed early enough and do the best possible to catch enough sleep. Night at Barafu Camp, B, L, D.
Day eight. The  SUMMIT ATTEMPT DAY from Barafu camp (4550m) to Uhuru Peak (5895m) and down to Mweka (3100m), 8 hours to reach Uhuru Peak, 7/8 hours to descend to Mweka
Rise up at around 23:30 and take some tea and biscuits. You will shuffle off into the night. heading  northwesterly ascending through heavy scree all the way until Stella Point on the rim of the crater. It is a 6 hours walk to Stella Point which is mentally and physically challenging to many Kilimanjaro climbers. At Stella Point on 5685 m, you can manage to take a short rest which offers the most rewarding sunrise if weather permits. From Stella Point encounter snow all through the 2 hour ascent to Uhuru Peak. You will have a photographic moment at the peak before you walk down back to Barafu taking about 3 hours. You will have a short rest and head down through stone scree to Mweka Hut at 3100m for the night, B , L, D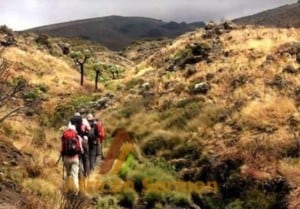 Lemosho Route 8 days Kilimanjaro climb route
Day nine. From Mweka Camp (3100m) to Mweka Gate (1980m) back to Moshi, walking for 3 hours
Today you will take a 15 km hike down for 3 hours to the Mweka Park Gate. You will receive your successful ascent certificates at Mweka gate as you bid farewell to your guide, cook and porters. You are now driven back to Moshi for the night, B.
Day ten. Departure from Kilimanjaro Airport
We transfer you to Kilimanjaro Airport to catch your flight back home having successfully conquered the highest peak in Africa, B.
Lemosho Route 8 days Kilimanjaro climb route price: US$ 1995 per person
Lemosho Route 8 days Kilimanjaro climb route price includes:
– All accommodations per itinerary
– All meals as per the itinerary (B = Breakfast, L = Lunch and D = Dinner)
– Guided Kilimanjaro trek as per itinerary
– Bed and breakfast accommodation in Moshi
– Transport from Moshi to Londorossi gate and return from Mweka gate to Moshi
– All ground transportation and transfers per itinerary
– Camping fees for the Kilimanjaro trek
– Kilimanjaro National Park gate fees and permits
– Kilimanjaro rescue fees (as required by national park)
– Professional certified, experienced English-speaking guide, porters and cook
– All meals while on the mountain
– Salaries and wages for all crew members
– High altitude tents, foam mattresses, cooking equipment and eating utensils
– Airport transfers on arrival and departure
Lemosho Route 8 days Kilimanjaro climb Price does not include:
– Meals not listed on the itinerary
– Oximeters
– Any international and domestic flights
– Tips for the guides, cook and porters
– Personal expenses (visas, airport taxes, telephone, airport taxes, internet, etc.)
– Sleeping bags and personal climbing gear