Of the main Kilimanjaro climbing routes, Machame route is one of the most popular trails. Most of the Kilimanjaro climbers choose to use this hiking route due to its impressive views combining a variety of habitats. Machame Route 7 Days on Kilimanjaro climb is the most recommended due to having an extra to acclimatize effectively prior to attempting the summit trekking.
Machame Route 7 Days on Kilimanjaro climb
Summary of Machame route:
Machame Route 7 days on Kilimanjaro climb is often referred as 'The Whisky' Route. It is one of the popular ascent routes with steep paths passing through the magnificent forest leading into the moorland and on to Shira Plateau. From here, Machame traverses under glacier precipices of the Southern ice-fields to join Barafu on to the summit Uhuru Peak. It has an option to camp at Karanga Valley Camp for acclimatization. Climbing groups can decide to omit this night at Karanga Camp.
The descent on this route is via Mweka route. Accommodation throughout Machame route is camping in high altitude tents, that porters set up for the trekkers. A thermal sleeping bag, warm clothing, and hiking poles are needed. Tents and sleeping mattresses are however provided.
Machame Route 7 days on Kilimanjaro climb has very good acclimatization conditions, this giving hikers high chances of hitting the summit. The trek on this route is steeper than the use of the most popular Marangu route. It is better suited to the adventurous hiker or trekker with rewarding scenic splendor.
Machame Route 7 Days on Kilimanjaro climb highlights:
•    Chance to start from Moshi or Arusha via the Shira Plateau
•    The advantage to acclimatize at Karanga Valley Camp offering better chances to reach the summit
•    Traverses the scenic Southern glacier or icefield to reach Barafu Camp
•    An ascent via Machame route but descent on the Mweka route
•    Enjoy the services of an expert Kilimanjaro guide on your all included climb with tents, climbing permits, meals, transport, camping, porters, cook, and meals provided
•    Walking through the lush rain forest, Savannah grassland, Giant Heather, Moorland  and lobelias
•    Watching sunrise at The Stella Point
•    Iconic climbing the beautiful Barranco Wall
Machame Route 7 Days on Kilimanjaro climb itinerary and pricing:
Day one: Arrival and briefing
On arrival at Kilimanjaro Airport, you will be picked up to your hotel in Moshi. From here, our expert guide will provide you with briefing about your expected trek and check your trekking gear. Bed and breakfast accommodation at Keys Annex Hotel.
Day two: From Moshi to Mt. Kilimanjaro National Park and on to Machame Camp
Today morning, you will get picked up and transferred to the Kilimanjaro National Park at Machame Gate (5,950 ft./1,815 m.). Here, you will undergo registration process by the park authority. Then you begin your climb through the rain forest. You trek along knotted roots and possibly hear exotic birds in the canopy above, see black and white colobus monkeys as well as Sykes monkeys. This hike is rather long though not steep. Trekkers are however asked to be cautious as there may be mud on the forest grounds. You continue on to some heath land, just before reaching your first overnight camp which is Machame Camp, just above the forest zone at 9,850 feet. The trek lasts approximately 6-7 hours walk. Meals and the night at Machame Camp, B, L, D.
Day three: Start from Machame Camp to Shira Camp, 5-6 hours
An ascent of the day continues across beautiful heath land and the alpine moorland with bravura views of Kilimanjaro Uhuru Peak. You then begin steep track through the savannah of tall grasses and Giant Heather and Erica trees. You now scramble around huge boulders as you move into the moorland zone which is clearly marked by lobelia and senecio plants as well as volcanic rocks swathed with lichen beards. These protect wild alpine flowers budding at their bases. The night and meals are at Shira Camp (at 12,600 feet), B, L, D.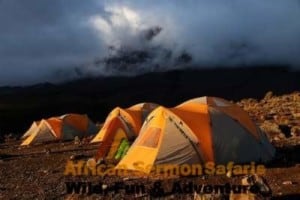 Day four: Shira Camp to Barranco Camp, 5-6 hours walking
Now you will be getting nearer to the peak as you move close to Lava Tower. Here, the trek starts becoming a bit more strenuous. The trail steepens towards the approach of the Lava Tower which is a 300-foot tall volcanic plug marking an exposed pass at 15,000 feet. The afternoon will see you descend the steep trail into the Great Barranco Valley set on a flat area (col) encircled on three sides with steep valley walls and the Kibo massif itself. In the sunshine above, hanging glaciers glint, amidst the giant groundsels (scientifically Senecio Kilimanjari), and the distinctively endemic Giant Lobelia. You will at this point slowly ascend to Barranco Camp (at 12,950 feet) for dinner and night. This day offers partial acclimatization.
Day five: Barranco Camp to Karanga Valley Camp (Acclimatisation), 4-5 hours hiking
We begin a gradual descent into the gorge. You then climbing its Eastern wall to enjoy the views of Kilimanjaro's ice fields said to be an equatorial anomaly. Continue trekking further until you reach Karanga Valley Camp at (13,900 feet) to spend the night acclimatizing, B, L, D.
Day six: Karanga Valley Camp to Barafu Camp, walking for 6-7 hours
Breakfast is at Karanga Valley Camp from where we start our day's trek up through Karanga Valley at which point the route turns steadily uphill. This follows the lava ridge ascending to the Barafu Camp. Now the temperature starts to grow colder and the landscapes become more sparse. You reach Barafu Camp which is set on a small exposed flat area on a ridge that acts as a base camp. From this camp, you will make your much awaited summit attempt, starting just at midnight tonight. Overnight at Barafu Camp (15,200 feet). Please be sure to catch an early sleep, B, L, D..
Day seven: Barafu Camp to Uhuru Peak summit and descent to Mweka Camp, 12-17 hours
We now start summit attempt, just after midnight which is now the most challenging day of the trek, with 12-17hrs of trekking. You will pass between the Rebmann and Tarzel glaciers to the rim of Stella Point. Here, temperatures range from just below freezing point at midnight to between 10 degrees F (-12 degrees C) to –10 F. (-23 degrees C) towards dawn at the summit. You will summit at Uhuru Peak which is the highest point in Africa at 19,340 feet, just before dawn with a possible reward of the African sunrise. Uhuru peak will be the culmination of your strenuous Kilimanjaro climb. You will then start your descent back to Barafu Camp for breakfast and some rest before you continue with a further descent towards Mweka Camp (9,840 feet) which is 3-4 hours of walking from Barafu. Spend the night at Mweka Camp, B, L, D.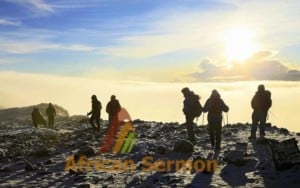 Day eight: Exit from Mweka Camp to Mweka Park Gate, 3 – 4 hours
Today is your final day to exit Kilimanjaro National Park. You will descend in about 3-4hrs to the Mweka park gate. Here you will receive your certificates and bade farewells to your expert guides, cook, and porters. You now drive back to Moshi for the night to regain your lost energy. Accommodation is on bed and breakfast at Keys Hotel, B.
Day nine: Departure from Kilimanjaro Airport
You will be driven to Kilimanjaro Airport for your flight out of Tanzania or continue with a Tanzania wildlife safari, B.
Machame Route 7 days on Kilimanjaro climb price: $1750 per person.
Machame Route 7 days on Kilimanjaro climb price includes:
– All accommodations per itinerary
– All meals as per the itinerary (B = Breakfast, L = Lunch and D = Dinner)
– Guided Kilimanjaro trek as per itinerary
– All ground transportation and transfers per itinerary
– Kilimanjaro National Park gate fees and permits
– Transport from Moshi to Machame gate and return from Mweka gate to Moshi
– Camping fees for the Kilimanjaro trek
– Professional certified, experienced English-speaking guide, porters, and cook
– Salaries and wages for all crew members
– Kilimanjaro rescue fees (as required by national park)
– All meals while on the mountain
– High altitude tents, foam mattresses, cooking equipment and eating utensils
– Airport transfers on arrival and departure
– Bed and breakfast accommodation in Moshi
Machame Route 7 days on Kilimanjaro climb price does not include:
– Oximeters
– Any international and domestic flights
– Meals not listed on the itinerary
– Personal expenses (visas, airport taxes, telephone, airport taxes, internet, etc.)
– Tips for the guides, cook and porters
– Sleeping bags and personal climbing gear