Of all Kilimanjaro climbing routes, Rongai route is the one that approaches the summit from the northern part close to the Kenyan border. Rongai Route 6 Days climb on Kilimanjaro allows you to hit Uhuru peak comfortably. The route has been gaining popularity among Kilimanjaro climbers, but still remains the least used route away from the crowds.
Rongai Route 6 Days climb on Kilimanjaro
Rongai Route 6 days climb on Kilimanjaro affords an ascent up Mt. Kilimanjaro from the northeastern side, along the border between Tanzania and Kenya. The route is gaining popularity among climbers in the recent past. The route experiences low traffic and thus one of the off-the beaten track option.
Rongai route is preferred by those looking for a less crowded alternative, away from the populous Marangu route. The route promises a more remote hiking. Those intending to climb during the rainy season can consider this Rongai as an option as the northern side receives less precipitation.
For a successful ascent on Rongai Route 6 days climb on Kilimanjaro, a minimum of six days are the most recommended.
The route scenery is not as varied as the routes on the western side, but importantly passes through unspoiled wilderness before connecting with the Marangu route at Kibo Camp. Descent on this route is through the Marangu route.
In terms of difficulty, Rongai route 6 days climb on Kilimanjaro is reasonably difficult recommended especially for those climbers with less backpacking experience.
Highlights of Kilimanjaro Rongai route climb:
•    Trekking of Africa's highest mountain from north eastern side
•    Hiking Kilimanjaro summit from the lesser used Rongai route with remote treks
•    Watching sunrise over Kilimanjaro summit Crater rim as you hike
•    Acclimatize at Mawenzi Tarn to increase chances of successful summit
•    Great Value price with all Rongai route Kilimanjaro park fees, guides, porters and all meals included
•    Climbing one of the world's 'Seven Summits'
Itinerary and pricing:
Day one. Arrival at Kilimanjaro Airport and transfer to Moshi
Upon arrival at Kilimanjaro International Airport, you will be met and assisted. Then driven to Moshi at Keys Annex Hotel for an overnight rest on bed and breakfast as you prepare for the next day's awaited trekking to Kilimanjaro.
Day two. From Moshi to Rongai Gate (1950m) and hike to the First Caves camp (2600m)
Walking for 8km in 5 hours with vegetation as Montane forest
You will be picked up from the hotel to Marangu park gate for registration followed with a transfer of approximately 2hrs 30 minutes to the Rongai trail head. Here, you will meet your expert Kilimanjaro guide, cook and porters ready to start your hiking. Start from Nale Moru village through the small winding trail crossing maize fields. You will enter pine forest and then climbing gently through a forest. This trail is not steep, but rather a gentle hike through beautiful countryside. Your first night at First Cave on 2,600 metres. At the camp, there is a toilet, a wooden table with benches, but there is no hut. Water is to be found down the trail below the First Cave, B, L, D.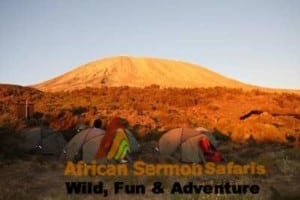 Day three: Start from the First Cave (2600m) to Kikelewa Cave (3600m) in 6 – 7hrs, Moorlands Vegetation
The route continues upwards towards Kibo and on the way passing Second Cave (3450m) to reach Kikelwa Cave at 3600 metres. The great views start to open up. You begin to have a feel you are now on a really big mountain, Kilimanjaro. From the cave, water is in the obvious stream below but one might have to wander downhill to find some. The night is at the Third Cave (Kikelewa Caves), B, L, D.
Day four. From Kikelewa Cave (3600) to the Mawenzi Tarn Camp (4330m), 3-4 hours in Moorlands
You will hike up a short but steep grassy slopes that offers great views of this huge wilderness. The vegetation zone ends just before you arive at your next resting camp, Mawenzi Tarn. The Mawenzi Tarn is fabulously situated below the gigantic spires of Mawenzi. You will spend the afternoon to acclimatize while exploring the area around the camp,  B, L, D.
Day five. From Mawenzi Tarn Camp (4330m) to Kibo hut (4700m), 4 – 5 hours of Alpine desert
You will continue with hiking to ascend on the eastern side of Kibo, crossing the saddle between Mawenzi and Kibo which takes about 4 to 5 hours, reaching Kibo Hut. You will spend the remainder of the day resting to prepare for the final attempt to reach the Uhuru Peak. The ascent begins around midnight and you are requested to catch an early sleep. Spend the night at Kibo Camp, B, L, D.
Day six. The SUMMIT ATTEMPT from Kibo hut (4700m)  to reach Uhuru Peak (5895m) and descent to  Horombo hut (3720m), 8hrs to summit and 6hs descent,
You will rise at about 23:30 to take some tea and biscuits. You will shuffle off into the night and remember this is where the going gets tough. The trail section consists of a rocky path to the Hans Meyer Cave at 5150m which is a good resting spot. This path zigzags upwards to Gillman's Point at 5681m and is located on the crater rim. The section is precisely steep with lots of stone scree. The part requires a great physical and of course mental effort. The section is probably the most demanding of this entire Rongai route, move slowly. From the Gillman's Point you will routinely encounter snow to Uhuru peak at 5895m which is the highest point in Africa. Upon reaching the peak, you will surely have a total exhilaration and personal satisfaction – you finally made it. On the summit, weather conditions determine the amount of time you can spend taking taking photographs. You now start a 3 hour descent back to Kibo Hut for a short rest.  Head downwards to Horombo hut seemingly fast lasting 3 hours. Night will be at Horombo Hut, B, L, D.


Day seven. From Horombo Hut (3720m) to exit Marangu Gate (1980m), 6 hours covering 27km
After breakfast continue with your descent taking about 6 hours past Mandara hut to Marangu gate for check out. It is at the gate that successful climbers receive summit certificates. You will have farewell with your expert guide, cook and porters as you are returned back to Moshi to enjoy the much awaited hot shower and a  well-earned sleep. At this point, you will be filled with great memories and stirring emotions of this achievement,  B.
Day eight. Departure from Kilimanjaro Airport
We transfer you to Kilimanjaro Airport to catch your flight back home having successfully conquered the highest peak in Africa, B.
Rongai Route 6 Days climb on Kilimanjaro price: US$ 1,650 per person sharing
Rongai Route 6 Days climb on Kilimanjaro price includes:
– Transfer to and from the base of the mountain
– Climbing Rongai route as itinerary
– Accommodations in Moshi at Keys Annex Hotel for 2 nights
– All accommodation as spelled on the itinerary whilst on the trek.
– All meal as detailed: B = Breakfast, L = Lunch and D = Dinner
– All Kilimanjaro park entrance fees and local government taxes
– Service of an expert English speaking Mountain guide, cook and team of porters
– Kilimanjaro Airport transfers on return as per the itinerary
– Treated water on during the trek
– Kilimanjaro mountain rescue fees
Rongai Route 6 Days climb on Kilimanjaro excludes:
– Tips, laundry and drinks
– Travel insurance
– Oximeters
– Sleeping bags and Kilimanjaro climbing gears
– Local and international flights and taxes
– Tanzania visas
– Items of a personal nature
– Any other extras not detailed in the above climb itinerary.