Zanzibar Island is a Tanzanian archipelago located off the East African coast. It is popularly known as the Spice Island. Zanzibar beach tour and beach holidays in Tanzania offers the most exciting sea, sun and sand vacation in Africa. Here, you will get to learn more about this popular beach destination.
Zanzibar Beach Holiday Tour
The Spice Island of Zanzibar
Zanzibar Island, locally known as Unguja is part of the Zanzibar archipelago of islands including Pemba Islands and several islets. Zanzibar is located in Tanzania and situated in the Indian Ocean some 25 miles from Tanzanian coast, overnight 565 square miles.
Zanzibar is famous for being a major producer of cloves, and infamous as being a slave entry-port, the old stone town of Zanzibar has a fascinating labyrinth of narrow winding streets lined with whitewashed, coral-rag houses with overhanging balconies and magnificently carved brass studded doors, shops, bazaars, mosques, courtyards, squares etc. Outside town there are more ruined palaces, Shirazi remains, Persian baths, and magnificent palm fringed beaches with warm clear water, ideal for swimming and snorkeling.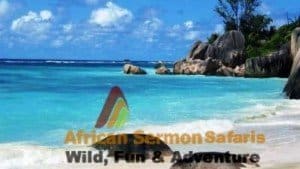 This sunny Island has endless sandy beaches with fringing coral reefs and also clear blue waters, the allure of Zanzibar. Thus, Zanzibar Beach Tour in Tanzania offers the finest snorkeling and diving sites to include remarkable deep sea fishing and immense water sports activities.
If you are looking for a more relaxed pace, you can wander in the narrow but winding streets of the historic Stone Town. The Stone Town is live with markets , colorful bazaars, and cultural activities like the remnants of the world's largest slavery trade. Zanzibar is widely known as the 'Spice island'. It is famous for a variety of spices some of which are cinnamon, vanilla, cloves, nutmeg, pepper, cardamom, and others. The Spice excursion is quite popular and recommended while on Zanzibar beach holidays in Tanzania.
Zanzibar is has the majority of resident as Muslim and you are advised to observe long dresses as the most recommended. Avoid showy clothes that exposes your body, unless specifically at the sandy beaches.
While in Zanzibar, there exists variety of accommodation options in Stone Town, beaches and the islets. We are available to assist in booking your Zanzibar trip either to the Stone Town or beaches of the East Coast or North Coast of Zanzibar ranging from budget bungalows, standard beach resorts and luxury beach villas and hotels.
You can combine a beach holiday with a 5-day Tanzania safari to experience a  wonderful wildlife tour to the Ngorongoro Crater and Serengeti.