Safari from Nairobi to Masai Mara is the most popular of all safari tours in Kenya.  Masai Mara safari is the world's most known African safari trip especially the wildebeest migration and the highest number of the big cats and the big five in particular.  This 3-Days Maasai Mara Tour in Kenya to Maasai Mara National Reserve offers one of the most remarkable opportunities to see cheetah and lions in Africa. A visit to this reserve in July will allow you the best chance to witness and watch firsthand as thousands of wildebeest migrate across the swollen crocodile-infested Mara River. 3 day safari Masai Mara will allow travelers to Kenya the best opportunity to explore this game park and get to see all the big five on all inclusive package tour.
Get ready for a lifetime trip in Kenya on this amazing wildlife safari sanctuary, The Masai Mara National Reserve. The Maasai Mara is located in the south-western part of Kenya, on the Southern bordering the Serengeti Park in Tanzania. The Masai Mara is mostly reviewed as Kenya's finest wildlife haven; everything regarding safari in this reserve is outstanding. A trip to the Masai Mara is indeed a life-changing one making safari tours in Kenya worth the experience with value for money since you are able to secure affordable Masai Mara safari prices.
Kenya safari to Masai Mara National Reserve is Kenya's most celebrated game park offering the possibility of seeing "the big five" and many other species of game. This is where the annual great wildebeest migration alongside zebras and Thomson's gazelles is a spectacle to behold for any would be visitors to Masai Mara in Kenya mainly in July and August of each year. The Masai Mara is also an endless golden savanna where you will enjoy its allure under a dramatic and vast sky above. Here in the Maasai Mara, there are incredible scenes of all wrapped up on a Kenya wildlife tour.
The 3-days Masai Mara safari tour in Kenya is the shortest and cheapest solution offering the best way to experience the view of Africa's big 5 " lion, elephant, rhino, leopard, and cape buffalo" for those on limited safari time possible. If you are on constrained by time, then Maasai Mara tour is the ideal Kenyan vacation trip for you and your family, colleague, spouse, and friends. The Masai Mara safari departs on a daily basis subject to availability of accommodation. Masai Mara safari packages from Nairobi are based on a minimum of 2 nights in order to enable visitors ample time to explore the vastness of this wildlife reserve and marvel at the scenic landscape that abound.
The Masai Mara 3 day safari can also be personalized or customized to add an extra day or two in the Maasai Mara safari and also to include stay in more luxury accommodations and tented camps. Traveling to a Maasai village for a culture tour is also an optional excursion that can be added to this short Kenyan holiday tour.  3 day safari Masai Mara is indeed the most exciting of all Kenyan safari tours for those with limited travel time.
3-Days Maasai Mara Tour in Kenya: Masai Mara safari highlights and major reviews:
•    The remarkable Great Annual migration of the wildebeests in this sprawling Maasai Mara wildlife sanctuary
•    The authentic Maasai culture wrapped up with a Kenya safari tour experience.
•    Hot air balloon safari with a great aerial view of the Maasai Mara acacia tree-studded savanna
•    The unique experience. Arguably, The Maasai Mara in Kenya promises memories of a lifetime which cannot be experienced anywhere else on a safari.
•    See the largest wildlife concentration including the Big Five and the famous Big Cats.
Safari program and Masai Mara safari cost
To start off your Masai Mara safari 3 days to this great sanctuary, below you will find safari itinerary and pricing offer:
Day 1: Nairobi – Maasai Mara Game Reserve
The 3 day Masai Mara safari tour from Nairobi begins with a pick up from your hotel at 7.30am. You are driven 285 kms (5 hrs) through the Great Rift Valley and the countryside to arrive in Masai Mara in time for lunch and siesta at your lodge.Masai Mara National Reserve is the most popular tourism destination in Kenya. The wildlife reserve is situated in the Great Rift Valley and is mainly an open grassland. The Masai Mara is highly rated as the jewel of Kenya's wildlife tour areas. The yearly wildebeest migration is the world's most popular wonder involving over 1.5 million animals arriving from Serengeti in Tanzania in July and departing back in November. There have been spotted some 95 species of mammals, amphibians and reptiles, and over 400 species of birds recorded on the reserve. Nowhere in the whole of Africa is such abundant wildlife, and it's for this reason a visitor seldom misses to see the popular big five (buffalo, lion, elephant, leopard, and rhino). The legendary Mara is known as an impressive wildlife destination in the World, promising an excellent opportunity of seeing the 'Big Five'. At 1400hrs, your first safari drive begins through the great plains to spot the big five, birds and other animals. Before nightfall, return to your lodge for the night to be spent at Mara Sopa Lodge, L, D.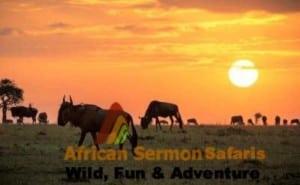 Day 2: Full day to explore the park on this Kenya safari tour
Wake up to an early morning game viewing drive with the return for breakfast and leisure by the poolside. There is an afternoon game spotting drive in this incomparable game reserve in Kenya, celebrated for its high wildlife numbers especially the big five, wildebeest migration in July to October each year, over 450 identified bird species among other animals including its paralleled scenic beauty of this tree-studded Maasai Mara. Spend the night Mara Sopa Lodge, offering comfortable cottage accommodation. Located high on the slopes of the Oloolaimutia Hills, Masai Mara Sopa Lodge was one among the primary lodges to be constructed in the Maasai Mara Game Reserve, a reason why its gardens and trees square measure, therefore, lush and mature. All the buildings follow the planning of ancient African spherical homes with cone-like roofs, and therefore these stretch along the hills with the imposingly giant public space buildings and the pool at their center. The cabin style accommodation has fifty visitor bungalows separated into two wings to either side of the fundamental open ranges. Each of these houses two open visitor rooms with a ruler and extra-large beds; mosquito nets; electronic safes; dressing tables; en-suite washrooms and protected verandas that all sees over the greenery gardens and the vast game reserve beyond. Six of the bungalows each contain two suites with bigger rooms and washrooms and both indoor and open air seating zones. Notwithstanding, the special honeymoon suite has to a great degree huge, lavishly named room with a jumbo bed; dressing table and indoor seating section. Its luxuriously delegated washroom contains both a shower and an indented shower, and its protected veranda offers the absolute most brilliant perspectives accessible over the African scenes beneath. Dinner and night at Mara Sopa Lodge, B, L, D.
Optional excursion offers during Masai Mara safari 3 days :
-Safari on hot air balloon with an aerial view of the Maasai Mara: US$ 450 per person
-Local Maasai village for a cultural display: US$ 25 per person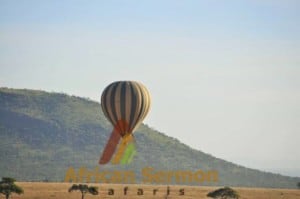 Day 3: Maasai Mara with a return to Nairobi after your safari offer
wake to a pre-dawn game viewing safari being the best suited to see the cats hunting with a return for breakfast and check out. The return journey back to Nairobi begins and there will be stopovers for souvenir shopping and Great Rift Valley View Point. The tour ends with a drop-off back to your city hotel, approximately 2-3pm after such a lifetime Kenya safari experience having had a taste of the Masai Mara 3 day safari, B
Masai Mara holiday package price: US$ 850 per person sharing. Single room supplement: US$ 140
3-Day Maasai Mara package pricing includes:
-Flexibility and personalized service
-On safari confirmation, guaranteed price and guaranteed departure
-Transport in a customized safari minibus equipped for game viewing, photography and touring
-Full board accommodation on safari to include three meals a day
-Meal plan as described, B=Breakfast, L=Lunch and D=Dinner
-Accommodation in a choice of double, twin or triple room. Single room at a supplemental fee
-Maasai Mara park entry permits and local government taxes
-Service of an English speaking professional driver/guide
-Game viewing safari drives in Maasai Mara
-Complimentary bottled water in the Masai Mara safari vehicle
-Road transfers from Nairobi and return to Nairobi
Masai Mara package tour cost excludes:
-Festive season supplements (Easter, Christmas and New Year at $35 per person per night)
-Tipping to your safari guide
-Laundry service
-Beverages/Drinks
-International flights
-Kenyan visas
-Items of a personal nature
-Optional local excursions as detailed separately
-Any other extras not detailed in the above safari itinerary
Read more information about getting to Masai Mara safari 3 days tour:
Getting there – Masai Mara 3 day safari, how to access the Mara
The main question is how long does it take to get to Masai Mara and by what means? Getting there is either by road or air. Driving from Nairobi to the Maasai Mara will take 5 to 6 hours on a scenic route, Traveling to the Mara is on a smooth tar half way to Narok Town. Here, there is a fuel station being a good stopover place for a drink, snack, and to use bathroom. The road from Narok Town to Sekenani Gate is a somewhat rough with the tarmac road ending. This dirt road is routinely graded and maintained in good condition. For more comfort, a good 4x4WD off-road vehicle is perhaps best as it will make the road trip much easier.
For those who don't fancy countryside driving, flying to the Maasai Mara. There are a twice daily flights to/from Masai Mara provided by AirKenya and Safarilink taking around 45 minutes. If you are in Mombasa, it would take you 2hrs to get to Masai Mara by air with Mombasa based Mombasa Air Safari.
Mostly, Masai Mara safari packages from Nairobi departs daily either by road or on air. Most of the tourists prefer road travel as it is cheaper and permits watching the countryside and the local culture. 3 days Masai Mara package offers the opportunity to sample wildlife, culture, landscape and experience hot balloon safari and the cheapest Masai Mara safari prices.