Mount Kenya climbing
Mount Kenya Climbing and hiking
Mount Kenya Climbing, the routes, the weather, and offer for trekking of this astounding mountain. Mount Kenya is the highest mountain in Kenya and the second highest in Africa. The main Mount Kenya climbing routes include Sirimon, Chogoria, and Naromoru. This trek to the top of Mt. Kenya could very well be the best and most varied mountain trek across East Africa. The route starts at Sirimon Gate and ends going down Chogoria route. The maximum altitude is 4,985 meters above sea level, so you get to walk through very different landscapes. There is even good chance to see wildlife along the way. Mount Kenya is an imposing volcano, close to the equator.
It is Kenya's highest mountain with three peaks, which goes right up to the 5,000 meters. The three peaks called Batian at 5199 meters, 5188 meters Nelion and finally Lenana at 4,985 meters. Mount Kenya is protected by a national park of the same name. The mountain supply water to about 50% of Kenya's population and produce 70% of Kenya's hydropower.
The best time to climb Mount Kenya
Mount Kenya can be climbed and hiked throughout the year. However, the best time to climb Mt Kenya tends to be the warmest and driest months which include January, February, and September. Also good months to hike Mount Kenya are June, July, and August. It is important to know that weather and temperatures can be quite unpredictable thus are likely to change drastically any time of the day and even altitude. As a caution only, it is best to avoid the long rainy season which take place from end of March to the early June and the short rain season from November towards the beginning of December.
Climbing Mount Kenya routes
Each route on the mountain has different characteristics that sometimes vary in terms of appeal to the hikers, trekker and climbers alike. In order to get the most benefits out of your trek you need to consider difficulty of the route, scenery and crowd when selecting the best Mt. Kenya climb tour. Other crucial factors to consider include age, medical conditions, level of fitness, hiking experience, high altitude and its effects, level of personal motivation, and many other special personal considerations. From our experience over the years, we recommend the use of Chogoria route which is the most scenic and rewarding but also the most difficult hike to Lenana Peak.
For those wanting to still be able to use the moderate route but combine with the scenic Chogoria route, then we recommend the use of Sirimon and Chogoria routes for Mt Kenya hiking. Naromoru route is a good route to use for those who want to get to the summit fastest, but again it is the wettest of all the routes.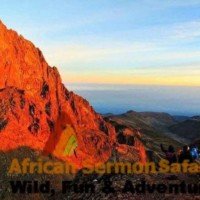 Climb Mount Kenya Chogoria Route
If you are an adventurous traveler, then you should consider going to Climb Mount Kenya Chogoria Route which is the…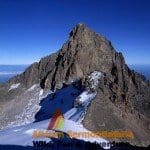 Mount Kenya Climbing – General information
While going to Climb Mount Kenya, Africa's second highest summit, below would be important issues to take care of. Trekking…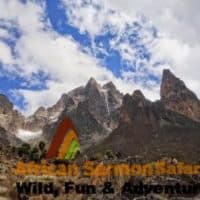 Mount Kenya Climbing Sirimon and Chogoria route in 5 days
Hiking in the wonderful and scenic hike Mount Kenya National Park is undeniably at its best during the dry months…