The best way to enjoy Africa is on a Kenyan safari holiday. Kenya is definitely home to a rich diversity of wildlife and traditional cultural villages. Selecting to go on safari tour in Kenya means you will experience the local culture first hand, as well as coming into interaction with all types of African wildlife. Traveling to Kenya combining the two most unique wildlife parks of Maasai Mara and Lake Nakuru  safari vacation in Kenya within 5 days is fascinating. Here, you will be able to spot the Big 5 and also the pink flamingos at Lake Nakuru. Maasai Mara and Lake Nakuru Kenya safari 5 days is one of the most popular short tour in Kenya.
Going on Kenya safari tour, you get to traverse the Great African Rift Valley. Lake Nakuru National Park is home to a colossal number of lesser flamingos also home to other wildlife species too for example it is a black and white rhino sanctuary. Lake Nakuru is Kenya's finest ornithological sight and ranked among the best in the world. Maasai Mara National Reserve boasts for protecting various wild animals among them the cheetah, lion, and other animals including wildebeests that migrate from  and to Masai Mara from Tanzania.
These include the wildebeest, gazelles, and zebras accompanied by many more herbivores and carnivores alike. Learn more about Kenya travel and going on this 5-day Kenya safari tour and get to see the Big Five animals and the most unique wildlife species. Read more to learn how to experience and book this 5 day safari Kenya:
Lake Nakuru and Masai Mara Kenya safari
Highlights of 5 days Masai Mara and Lake Nakuru safari vacation in Kenya:
•    You will get to explore the Masai Mara famous for its Big Five (leopard, lion, rhinoceros, elephant and buffalo) among others. In July-October, be in full view of the thousands of wildebeest, gazelle, and zebra in the world's renowned Great Wildebeest Migration
•    Possible tour of the authentic cultural Maasai village in the Masai Mara
•    Marvel at the alkaline Lake Nakuru in the Great Rift Valley with its flamingo-lined shores
•    Get to view the endangered white rhinoceros, a member of the big five, in the Lake Nakuru National Park
Maasai Mara and Lake Nakuru Kenya safari 5 days
Day one: Arrival to Nairobi in Kenya
Met on arriving in Nairobi at the Jomo Kenyatta International Airport. Your driver and guide will go ahead to transfer you to your hotel. Here, you will be on bed and breakfast arrangements. One of our safari experts will schedule a briefing session with you.  In the event you have time permitting, you can book yourself a day tour in Nairobi. The night is at Sarova Panafric Hotel.
Day two: Kenya safari from Nairobi to Maasai Mara
You will travel for approximately 5~6hrs from Nairobi to the remarkable Maasai Mara with on route stops at Great Rift Valley View Point and Maasai Town of Narok. You will arrive for lunch at your chosen lodge. There will be an afternoon game viewing safari to see the rolling grasslands covered with many thousands of grazing animals, flat-topped acacia trees, lions dozing in the shade, enormous herds of Cape buffalo, while zebras nibble at the tall grass just meters away. And the Kenya safari experience is endless. Return to the lodge for dinner and night, only to probably hear lions roaring some miles away. Night is at Mara Sopa Lodge, L,D.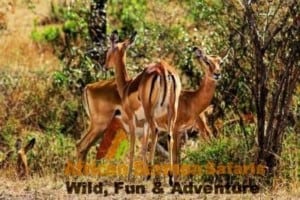 Day three: Maasai Mara tour to see Big Five on this Go Kenya safari
A full day spent game viewing safari across this famous Maasai Mara National Reserve. Maasai Mara is unsurprisingly known for the 'Great Wildebeest Migration' which is heralded as one of the Earth's most outstanding natural spectacles with a procession of 1.5 million wildebeest, antelopes and zebras. You will be amazed at the amount of animals you will closely encounter. Virtually every type of wildlife to be found in Kenya. All meals and the night is at your comfortable lodge, Mara Sopa Lodge, B, L, D.
Optional excursions during the tour of Maasai Mara:
-The tour of local Maasai village for a cultural display: US$ 25 per person
-Safari on hot air balloon with an aerial view of the Maasai Mara: US$ 450 per person
Day four: Maasai Mara to the Great Rift Valley Lake Nakuru, a rhino sanctuary
You wake up to an early breakfast and moving through the Great Rift Valley, arrive at Lake Nakuru National Park where the tour features flamingo filled shores of this sublime Lake Nakuru. Game drives here would reveal black and white rhino among other animals. Dinner and the night will be at the Lake Nakuru Lodge, B, L, D.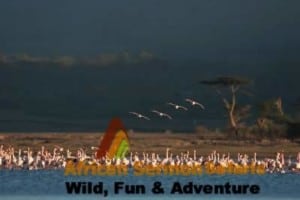 Day five: From Lake Nakuru back to Nairobi
You will have a pre-dawn game viewing drive in this popular park known for its millions of flamingos and other water birds. Breakfast will be at the lodge followed by return back to Nairobi, where the tour ends, only to marvel at your great Kenya safari experience. Drop off at the airport for your departure, B.
Kenya safari trip cost: US$ 1130 per person sharing. Single room supplement: US$ 165
Maasai Mara and Lake Nakuru safari price includes:
-On safari confirmation, guaranteed price and guaranteed departure
-Flexibility and personalized service
-Transport in a customized safari mini bus equipped for game viewing, photography and touring
-Meal plan as described, B=Breakfast, L=Lunch and D=Dinner.
-Full board accommodation on safari to include three meals a day
-The park entry permits and local government taxes
-Sarova Panafric accommodation on bed and breakfast plan for one night
-Game viewing safari drives in The Maasai Mara and Lake Nakuru
-Accommodation in a choice of double, twin or triple room. Single room at a supplemental fee
-Service of an English speaking professional driver/guide
-Road transfers from Nairobi and return to Nairobi
-Bottled water whilst on safari
Maasai Mara and Lake Nakuru safari vacation price excludes:
-Tipping to your safari guide
-Arrival and departure airport transfers
-Festive season supplements (Easter, Christmas and New Year at $35 per person per night)
-Kenyan visas
-Laundry service
-International flights
-Optional local excursions as detailed separately
-Items of a personal nature
-Beverages/Drinks
-Any other extras not detailed in the above safari itinerary
Go on an adventure safari tour. A safari is a truly unique experience. You get close to the wildlife of the world which is not only impressive but also remains in your memory forever. Safari is an experience for all holiday makers where the sounds of the African savanna are strong sensations that you remember forever. Nature's order can sometimes be brutal. But there are also many life-provoking experiences. Like the sight of a newborn giraffe who takes his first steps, or an elephant-dungeon with dancing snare, triggers in the heels of his mother on the way to the waterhole.
Traveling to Kenya with African Sermon Safaris, you will get up close and candid with wildlife with you at the center of the experience. We know where and when is the greatest chance of experiencing the animals. You travel exclusively and will be accompanied by knowledgeable expert nature guides when you go to the savanna. Therefore, you are guaranteed great but also safe and educational experiences.
Travel to Kenya on safari offering adventurous vacation experiences, a huge wildlife reserve, unique cultures and paradise beaches. The climate is warm year-round and the landscape is varied, with large grasslands, hilly terrain with baobab trees and some of Africa's highest mountains. Visit Kenya to some of the many wildlife reserves and national parks with their distinctive features – for example.
Masai Mara is where the Maasai people live in co-existence with wildlife. You can also see Karen Blixen's farm, visit Baby Elephant Orphanage in Nairobi by Daphne Sheldrick or go on a beach holiday on the Kenyan coast with the white sandy beaches and the crystal clear waters. The country is rich in unique experiences and travel adventures. You can get a specific offer on a tailored safari trip or explore our many inspirational travel suggestions on this page.